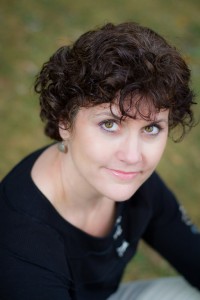 *** Book Giveaway ***
See contest info below
There's little that's more fun than welcoming friends to my blog, especially when they have a brand new book out, so I'm thrilled to welcome author Michelle Griep …
Actually, let me restate that, I'm thrilled to welcome Nicholas Brentwood, Michelle Griep's hero from her new release, Brentwood's Ward, to my blog. Michelle is busy with the book release stuff, so Nicholas stepped in to help her out. Nicholas Brentwood is a rough and tumble lawman with a strong sense of right and wrong. He's agreed to answer a few questions today, which is a rare treat …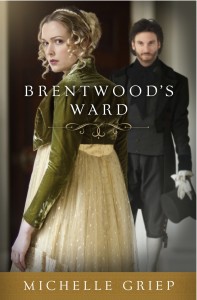 But first, here's a little bit about Brentwood's Ward:
There's none better than NICHOLAS BRENTWOOD at catching the felons who ravage London's streets, and there's nothing he loves more than seeing justice carried out—but this time he's met his match. Beautiful and beguiling EMILY PAYNE is more treacherous than a city full of miscreants and thugs, for she's a thief of the highest order…she's stolen his heart.
Sounds like a page-turner, doesn't it? And as an occasional critique partner of Michelle, I've had glimpses into this story and am dying to read the entire book. The only reason I haven't is because Michelle's having a book signing this Saturday (Burnsville LifeWay, for those of you in Minnesota), and I plan on purchasing my book then.
But I digress….
At last, what you've been waiting for, the rare interview with Nicholas Brentwood …
QUESTION: What made you decide to become a Bow Street Runner?
NICHOLAS: **a muscle twitches along his jaw then softens when he makes eye contact with you** "Perhaps you're not aware that "runner" is a derogatory name. I don't "run" errands for the magistrate. I am an officer of the law, snatching criminals off the street and hauling them in so that justice can be meted out . . . and that is exactly why I signed up for the position. Vengeance may be the Lord's duty. Justice is mine."
QUESTION: Who was the most dangerous scoundrel you ever crossed paths with?
NICHOLAS: **flashes a smile** "Time was when I'd answer that question with ol' Natty Pickmacket." **rolls up his sleeve and turns over a forearm knotted with muscle—and a thick scar running the length of it** "See that? Natty knew how to wield a blade. Best of the best. Caught me off-guard in an alley off King's Courtyard. But he was a babe compared to the most cunning thief I ever crossed paths with." **tugs his sleeve down** "Emily Payne left me bleeding on the inside."
QUESTION: Speaking of Miss Payne, what was your first impression when you met her?
NICHOLAS: **quirks a brow** "Is this off the record?"
QUESTION: She won't hear a word of it.
NICHOLAS: "The first time I met Emily was a punch in the gut. Beauty, wit, and a streak of rebelliousness are the worst possible combination. I knew exactly what she was. An opportunist, using her sweet smile and soft curves to get whatever she wanted. Still . . ." **a broad grin lights the dark shadows of his face** "I loved her for it, though I wouldn't admit it. Not even to myself."
QUESTION: Some day you may have a family. Will you continue in this perilous line of work?
NICHOLAS: **shrugs** "I would like a family of my own someday—if Emily is willing and God provides. Keeping them safe will be my top priority, and what better way than to remain in my present position?
QUESTION: Is that not a risk?
NICHOLAS: "Every breath you take brings a new risk. We live in a fallen world. I once told Emily that the only way to prevent trouble is to identify the danger before it strikes. I expect being a father would only heighten my sense of identification." **reaches inside waistcoat and pulls out his pocketwatch, flipping open the cover with his thumb** "Sorry. Didn't realize the time. I've enjoyed our conversation, but I really must dash, or I will be in danger."
QUESTION: Oh? Are you off on a manhunt or an undercover assignment?
NICHOLAS: "No, nothing so clandestine." **tucks away his watch** "Emily is waiting for me at the Chapter Coffee House. I took down a man there, once. This time I don't want it to be me. She brandishes her temper like Natty and his blade. **winks before he wheels about and stalks out the door**
London's streets are safer because of men like this. If you have the opportunity, be sure to thank a lawman today.
Intrigued? I knew you would be! Brentwood's Ward is available in paperback, ebook, and audiobook formats at Amazon, Barnes and Noble, and other fine booksellers, so hurry out and pick up your copy!
ABOUT MICHELLE GRIEP
Michelle Griep's been writing since she first discovered blank wall space and Crayolas. She seeks to glorify God in all that she writes—except for that graffiti phase she went through as a teenager.
She resides in the frozen tundra of Minnesota, where she teaches history and writing classes for a local high school co-op. An Anglophile at heart, she runs away to England every chance she gets, under the guise of research. Really, though, she's eating excessive amounts of scones.
Follow her adventures at her blog WRITER OFF THE LEASH or visit michellegriep.com, and don't forget the usual haunts of Pinterest, Facebook, or Twitter.
Website | Blog | Pinterest | Facebook | Twitter | Novel Rocket
MORE BOOKS BY MICHELLE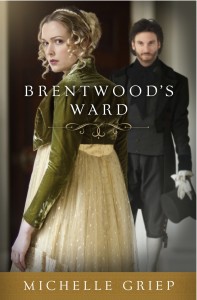 >>>Book Giveaway<<<
Michelle has graciously offered to give away one copy of Brentwood's Ward! To enter, in the comments below, please let us know if you've read any of Michelle's other books. Which one(s)?
This contest ends Sunday, January 18, 2015 at 11:59 pm CST. I will post the winner on Monday, January 19, 2015. Winner will be chosen via Random.org.