*** Book Giveaway! See contest rules below ***
I had the privilege of *meeting* Jim West several years ago thanks to the wonderful Soldiers Angels program. Our family volunteered to adopt a soldier, which meant we'd write letters and send care packages several times over a period of months. We were told not to expect return correspondence, which was fine and completely understandable. Yet we were blessed with someone who took the time to write individual notes to each of the kids. They looked forward to writing to him and to receiving a note back.
Jim was that adoptee-not officially a soldier, but a security analyst embedded with the military. Over the years the letters waned, then stopped, but Jim happened to find me on Goodreads shortly after his debut released. It's wonderful to reconnect.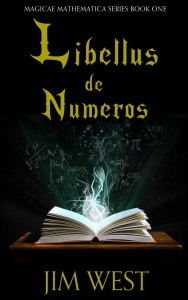 As for Jim's book, Libellus de Numeros (which I had the honor of reading several years ago in its earlier stages), it's been a phenomenal success, surpassing even Harry Potter in several Amazon categories. Also, as of the time I'm writing this post, his book has 147 reviews, 144 of which are 5-star. Pretty amazing! Plus it's mentioned in Publishers Weekly and has a great review on Kirkus Reviews. Not bad for an indie debut. 😉
I love how the book's hero is a girl, which gives young women around the globe someone to look up to and wish to emulate. That's very empowering for our younger generation!
So, I'm very excited to have Jim visit my blog. Please welcome him!
Jim, can you tell my readers a little about yourself?
I am a cyber security expert with many years' experience with the US military.  I love playing basketball and video games when I do have free time.  I have travelled the world extensively, and been fortunate to have had my family with me most of the time overseas.  My family lives in Dubai, UAE while I work in Kuwait.  I do hope to change jobs to the UAE soon.
Congratulations on the release of Libellus de Numeros! What exactly does the title mean?
Libellus de Numeros means Book of Numbers.  In this story the wizards all possess one.  It is both a lesson book as well as a math journal for the wizard.  The main character Alex gets hers in this book.
What inspired this book?
My two daughters.  Just before they were born I had the idea for a story that would inspire them as they grew up.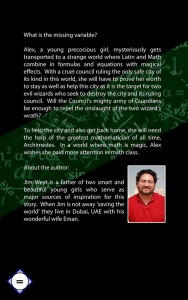 It looks like you've inspired many other girls as well! What do your daughters think about your book?
My daughters are excited and thrilled to see and hear how well its doing. Its like everyday is something new happening. My oldest is the Instagram account manager for the series. So they are also participating in the success.
You have a very unique marketing campaign (check out Jim's Magicae Mathematica pages Twitter, Facebook, & Instagram pages), one that's reaching readers around the world. I'd love to hear more about it.
Being overseas I myself have been privileged to have seen many places.  I know for many kids that is not always an option.  I wanted to show both a global reach of an idea and that your dreams are only limited by your motivation.  The idea that a book can take you places both real and imaginary is a wonderful idea.  The concept of "What is the missing variable?" is a main theme in my story, but in the real world I want kids to feel they all can be the missing variable.  The ones whom can change the world.
Love that! Could you tell us about your journey to publication?
This story took over a decade to come to the public.  Mostly because of the math.  Back in the early days of the draft, I wanted to teach kids advanced math concepts through the story.  I needed a math teacher.  I tried many times to find one and every time either the individuals did not have the time, or events such as Hurricane Katrina prevented it.

In 2014, I had a month off work in Kuwait and during that time I sent the draft to a friend who was a writer and was told to drop the math lessons and proceed with the strong story. That month the draft went from 15k words to over 50k.  It was both a liberating experience and fulfilling one.

I then sent the manuscript to many publishers and within a few weeks had four offers.  Yet none of the offers were giving me anything more than what I felt I could do on my own with self-publishing.  I self-published on Oct 31, 2014.  There are times I wish I had more sales, but I feel with anything worth it-takes time (fingers crossed!).
Wise advice from your writer friend to just tell a great story! I know from personal experience it's easy to get bogged down with our message rather than just telling the story. But, if your story is well-told and is engaging, the message will come across.
What are you working on right now?
I am working on the second book of the series, Circulus de Potentia.  It will be ready this April, but I will hold off on self-publishing to allow my appearance at the London Book Fair to drum up interest to possible move the book to a publisher.
Which authors do you enjoy reading? Have any influenced your writing?
To be honest, I do not do a lot of reading beyond the internet full of news and cyber security articles.  When I was young I found Jules Verne's 20,000 Leagues Under the Sea to be magical.  I must have read that book hundreds of times.  The one series that really captivated me then was Chronicles of Prydain by Lloyd Alexander.  I love that series.
What's on your reading list right now?
Oh my.  I just said I don't really read books, but if there was a do read list I would say The Phantom Tollbooth [by Norton Juster].  My recent Kirkus review compared my book to it.
I loved The Phantom Tollbooth! It's an honor to have your work compared to it!
When you're not writing, what do you enjoy doing?
Video games and traveling.  Love Final Fantasy, World of Warcraft, Call of Duty, etc.  For travel, last year I went to see FC Barcleona play in Barcelona (Messi is the greatest!) and the Northern Lights in Norway.  This year I will be in the states for the first time since 2006 for some books events and vacation.  Then I have the London Book Fair April 14-16.  ***I have ten visitor passes for the London Book Fair that I am willing to give away to anyone who would like to fly to London to see the event.
Wish I could fly to London! What an amazing opportunity for you!
To what do you attribute your sales success?
I attribute the success in terms of how it affects people's perspective of math and science. When I get young readers who connect with me on social media or on reviews telking me this is the best book they ever read is truly what I consider success. When I reach a level when that can happen times a whole generation, that is when I have achieved my ultimate goal.

Change the equation; change the world.

More so to the point of the question, once people discover this wonderful story…they love it and want to share it with their friends and family.
I think those are goals of every author, to have your work mean something to the reader and have that word-of-mouth success. It sounds like you're succeeding!
Thanks again, Jim, for visiting today! It's so much fun following your new journey!
About Jim~
Jim West was born in Killeen, TX in 1977 and grew up mostly in central Louisiana. For over 18 years he has worked in the Cyber Security field and came up with the ideas and concept for the Magicae Mathematica series about a decade ago. His first book of the series, Libellus de Numeros, is one he hopes will resonate with its young readers. Jim is a father of two SMART and beautiful girls whom he loves dearly and when he himself is not away 'saving the world' they live in Dubai, UAE with his wonderful wife Eman.
About Libellus de Numeros~
What is the missing variable?

Alex, a young precocious girl, mysteriously gets transported to a strange world where Latin and Math combine in formulas and equations with magical effects. With a cruel council leading the only safe city of its kind in this world, she will have to prove her worth to stay as well as help this city as it is the target for two evil wizards who seek to destroy the city and its ruling council.

Will the council's mighty army of guardians be enough to repel the onslaught of the two wizards' wrath?

To help the city and also get back home, she will need the help of the greatest mathematician of all time, Archimedes. In a world where math is magic, Alex wishes she paid more attention in math class.
Find Jim and Libellus de Numeros on the web~
Website | Facebook | Twitter | Goodreads | Instagram | Kirkus Reviews
Hashtags~ #mathISmagical #missingvariable
Purchase Libellus de Numeros~ Amazon | B&N
---
Jim has graciously offered to give away one e-book copy of Libellus de Numerous! To enter, in the comments below, I'd like to know why you'd like to read Libellus de Numeros.
This contest ends Sunday, March 1, 2015 at 11:59 pm CST. I will post the winner on Monday, March 2, 2015. Winner will be chosen via Random.org.