***Book Giveaway***
See contest rules below
I *met* Debbie Lynne Costello a few years back via her fantastic blog, Fiction Addiction Fix, a blog that spotlights book giveaways. They've generously posted my giveaways, so when Debbie's debut release Sword of Forgiveness came out, I had to return the favor. Her debut is already piling up the 5-star reviews.
Here's the back cover blurb for Sword of Forgiveness:
After the death of her cruel father, Brithwin is determined never again to live under the harsh rule of any man. Independent and resourceful, she longs to be left alone to manage her father's estate. But she soon discovers a woman has few choices when the king decrees she is to marry Royce, the Lord of Rosencraig. As if the unwelcome marriage isn't enough, her new husband accuses her of murdering his family, and she is faced with a challenge of either proving her innocence or facing possible execution.
Royce of Hawkwood returns home after setting down a rebellion to find his family brutally murdered. When all fingers point to his betrothed and attempts are made on his life, Royce must wade through murky waters to uncover the truth. Yet Brithwin's wise and kind nature begin to break down the walls of his heart, and he soon finds himself in a race to discover who is behind the evil plot before Brithwin is the next victim.
Sounds like a page-turner, doesn't it? To get to know the hero and heroine even better, Brithwin and Royce sat down for a short interview. I love how this interview captures their personalities!
Royce, what was your first impression of Brithwin?
(He glances over at Brithwin and smiles) That she was one of the most beautiful woman I'd ever laid eyes on. (He chuckles) And that she thought very highly of herself even dressed in rags.

(Brithwin raises her eyebrows) That's only half of the story, tell them the rest.

(Royce gives her an innocent look) 'Tis the truth love. She asked what my first impression of you was. 'Twas just I thought you a servant.
What about you, Brithwin? What was your first impression of Royce?
Not as good as his was of me. I mayhap thought him a fine looking man if I could have seen past the way he held himself with much authority. I was not interested in being another man's chattel again.
Royce, if you have a son someday would you encourage him to be a knight, knowing he could face danger every single day?
If that is what he wishes to do. I would hope and pray that my influence on his life would make him a man of honor who would defend the weak and less fortunate. And for the danger, yes, there is danger, but a God who says our days are numbered will not allow him die before his time.
Brithwin, if you have a daughter someday what would you like for her?
To marry a man who loves her more than life itself, a man who treats her as if she were the most precious thing on this earth, and a man who loves the Lord with all his heart.

(Royce grins) You want her to marry someone like her father, then.

(Brithwin's eyes soften) Indeed. Just like her father.
Royce, is there one person in particular that you look up to?
The person who I looked up to the most was my father. He was a good man who loved his family and was fair to everyone regardless of status. I can only hope my son will look up to me for all the right reasons as I did him.
Brithwin, who was the most influential person in your life?
So many people impacted my life. Half of the people in this castle helped me through my earlier years in spite of punish should my father find out. I could narrow it down to two for I'm not sure if I would say Thomas or Pater. They both were important to me. Perhaps the best way to answer this is to say that Pater influenced me spiritually while Thomas looked after me and influenced me in most of the social ways.
What would the perfect life look like to you, Royce?
My parents would live and be able to meet my beautiful wife.
What about you, Brithwin?
I think I am living it.

(Royce cocks an eyebrow)  Did you have to show me up on that, Love?

(Brithwin smirks) You are just jealous because you didn't think of it.
Royce, were you jealous of the fact that your brother would inherit Rosen Craig?
(Royce chuckles again) Heavens, no! Growing up I was always relieved that I didn't have to sit and listen to all the villiens' complaints come in when my father sat in court . I used to tease Bryce as I ran out the portal when father would tell him he needed to stay and learn how to make fair judgments.
Was it hard growing up as an only child, Brithwin?
My growing up years were hard. But they would have been harder if I had siblings that were subjected to the same thing as I was. I'm glad I didn't have any. I only had to look out for myself. It would have been much harder had I needed to protect a brother or sister.
Thank you for taking the time out of what I know is a very busy schedule with all of your responsibilities.  Is there anything either of you would like to say to the readers, Brithwin?
 Yes, please come visit us in Sword of Forgiveness. We'd love to have you.
Royce, anything you'd like to say?
See you in Cumberland.
---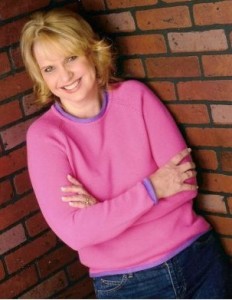 About Debbie Lynne Costello~
Debbie Lynne Costello has enjoyed writing stories since she was about eight years old. She raised her family and then embarked on her own career of writing the stories that had been begging to be told. She and her husband have four children and live in upstate South Carolina. She has worked in many capacities in her church and is currently the Children's Director. Debbie Lynne has shown and raised Shetland Sheepdogs for eighteen years and still enjoys litters now and then. In their spare time, she and her husband take pleasure in camping and riding their Arabian and Tennessee Walking horses.
Get in touch with Debbie~
www.debbielynnecostello.com
www.theswordandspirit.blogspot.com
www.christianfictionhistoricalsociety.blogspot.com
Purchase Sword of Forgiveness at Amazon.
---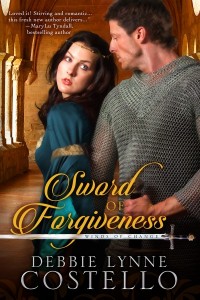 >>>Book Giveaway<<<
Debbie has graciously offered to give away one copy of Sword of Forgiveness, your Choice of paperback or Kindle version in the continental US and outside the continental US, a Kindle version. To enter, leave a question for Brithwin and/or Royce in the comments section below.
This contest ends Sunday, April 12, 2015 at 11:59 pm CST. I will post the winner on Monday, April 13, 2015. Winner will be chosen via Random.org.