Along with May flowers comes a beautiful bouquet of books–sorry, I couldn't resist. 😉 This month four of my favorite authors are coming out with new releases, and I know they'll all be winners.
Question: Which May releases are on your can't-wait-to-read list?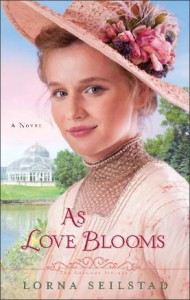 As Love Blooms
by Lorna Seilstad
Revell
Denied a position as a horticulturalist at prestigious Como Park in Saint Pail, Tess Gregory is not above a little benevolent deception in order to get the park superintendent to change his mind and hire her. She plans to infiltrate the world of wealthy and influential people in hopes of drumming up financial support for a world-class conservatory.

On the way to achieving her dreams, Tessa meets Reese King, a handsome gardener at Como Park – and a major distraction. Is his goal to help her? Or to capture her heart?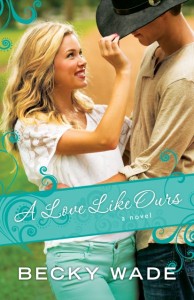 A Love Like Ours
by Becky Wade
Bethany House Publishers
Former Marine Jake Porter has far deeper scars than the one that marks his face. He struggles with symptoms of PTSD, lives a solitary life, and avoids relationships.When Lyndie James, Jake's childhood best friend, lands back in Holley, Texas, Jake cautiously hires her to exercise his Thoroughbreds. Lyndie is tender-hearted, fiercely determined, and afraid of nothing, just like she was as a child. Jake pairs her with Silver Leaf, a horse full of promise but lacking in results, hoping she can solve the mystery of the stallion's reluctance to run.

Though Jake and Lyndie have grown into very different adults, the bond that existed during their childhood still ties them together. Against Jake's will, Lyndie's sparkling, optimistic personality begins to tear down the walls he's built around his heart. A glimmer of the hope he'd thought he'd lost returns, but fears and regrets still plague him. Will Jake ever be able to love Lyndie like she deserves, or is his heart too shattered to mend?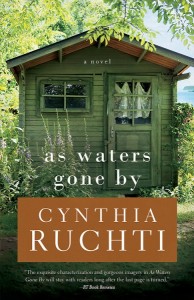 As Waters Gone By
by Cynthia Ruchti
Abingdon Press
Emmalyn and Max Ross may have to endure the fight of their lives to mend the tattered fabric of their marriage. His actions ensured that she could never be a mother and put him in prison, giving their relationship a court mandated five year time out. On a self imposed exile to beautiful but remote Madeline Island, one of the Apostle Islands of Lake Superior, Emmalyn has just a few months left to figure out if and how they can ever be a couple again.Nudged along by the exuberant owner of the Wild Iris Inn and Cafe', a circle of misfit people in their small town, and a young girl who desperately needs someone to love her, Emmalyn restores an island cottage that could become a home and begins to restore her heart by learning what it means to love unconditionally. Yet even as hope begins to find a place within the cottage walls, Emmalyn still wonders is she's ready for Max's release. She may be able to rebuild a cottage, but can she rebuild a marriage?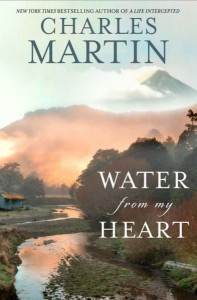 Water from My Heart
by Charles Martin
Center Street
Left to survive on his own as a teenager, Charlie grows up fast—earning a scholarship to Harvard and learning to survive on the outskirts of privileged society. But when his streetwise East Coast business sense leads to disastrous consequences for a faraway mother and child, will a trip to Nicaragua soften his jaded heart?