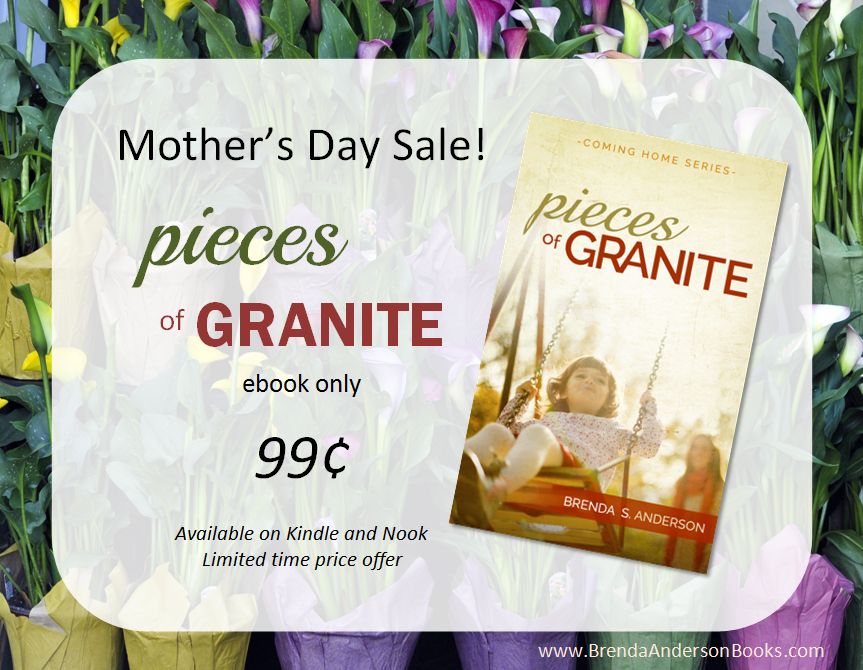 With Mother's Day approaching, I can't think of a better gift than a book about a mom, so it's a perfect time for a sale.
Pieces of Granite (Coming Home series prequel) is about a strong mom (Debbie Verhoeven), one who's independent and self-sufficient. But when Debbie's faced with the news that her unborn baby has Down syndrome and her husband begins to pull away and her brothers refuse to get along, that strength gets stretched to the breaking point.
How many moms haven't felt that way at times? I know I have.
Too often in our world today moms are told we can be everything and have it all. We can be superwomen! But that's a lie. Women have to learn that it's okay not to be strong all the time, and that we won't be good at everything. We just have to be who God created us to be. Nothing more. Nothing less.
And yes, God certainly does give us more than we can handle–on our own. Often it takes us reaching that breaking point before we realize we need to surrender and let God carry our load for us. That's the very lesson Debbie has to learn in Pieces of Granite.
He gives strength to the weary
and increases the power of the weak.
Even youths grow tired and weary,
and young men stumble and fall;
but those who hope in the Lord
will renew their strength.
They will soar on wings like eagles;
they will run and not grow weary,
they will walk and not be faint.
Isaiah 40:29-31