Nothing sounds better than bringing a book lake or poolside to wile away a summer afternoon, does it? If your to-read pile is running low, here are books by three authors I highly recommend: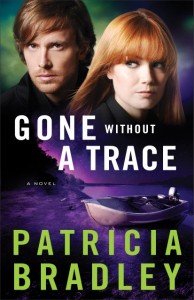 GONE WITHOUT A TRACE
(Logan Point Series #3)
by Patricia Bradley
Revell
It's been more than two years since homicide detective Livy Reynolds's cousin disappeared from Logan Point. Unlike most people in her hometown, Livy has never believed that Robyn left voluntarily. When Dallas private investigator Alex Jennings contacts Livy concerning a missing senator's daughter who was last seen in Logan Point, she notices eerie similarities between the two disappearances. But with self-doubt plaguing her and an almost instant dislike of Jennings, Livy is finding this investigation an uphill battle. With her future in law enforcement on the line, can she find a way to work with a man who is her polar opposite?
LADY MAYBE
by Julie Klassen
Berkley
A woman's startling secrets lead her into unexpected danger and romance in Regency England…

One final cry…"God almighty, help us!" and suddenly her world shifted violently, until a blinding collision scattered her mind and shook her bones. Then, the pain. The freezing water. And as all sensation drifted away, a hand reached for hers, before all faded into darkness…

Now she has awakened as though from some strange, suffocating dream in a warm and welcoming room she has never seen before, and tended to by kind, unfamiliar faces. But not all has been swept away. She recalls fragments of the accident. She remembers a baby. And a ring on her finger reminds her of a lie.

But most of all, there is a secret. And in this house of strangers she can trust no one but herself to keep it.
DESTINATION
by Nicole Petrino-Salter
Redemption Press
An unlikely felon returns to friendship with a fiery old widow, real love, ministry to youth, and the unusual burden for his new love's ex-fiancé.