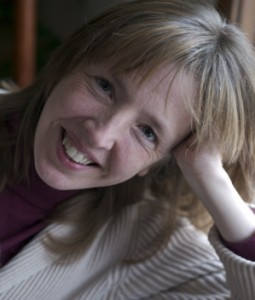 Anyone who's walked the I-wanna-be-published path, knows that path is an an extremely difficult one to travel, and you can't go it alone. You need family, friends, peers, and mentors to walk alongside you, guiding you, holding your hand, lifting you up when you get knocked down. I've been blessed with a great crowd walking with me, one of whom is the amazingly talented, award-winning author Sharon Hinck.
But Sharon is so much more than that. She's a mentor, teacher, encourager, and best of all, friend, and I'm blessed to know her. So with The Deliver, book four in her The Sword of Lyric series, coming out today, we have to celebrate with her!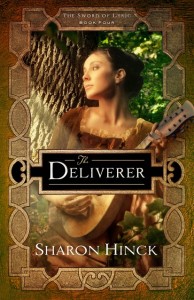 She stopped by to answer a few questions and tell us about her new release. But first, here's the back cover blurb for The Deliverer:
A lost songkeeper must lead her people to a long awaited Deliverer
Eager to serve the One, a young songkeeper travels to the dark and foreign nation of Hazor, but her confusing, rough-edged companion has lost his Restorer gifts. As danger rises against them both, she loses her freedom, her memories, and her hope. Now even the very music of her soul is threatened.
In our world, Susan Mitchell no longer feels at home in the carpool lane. Burdened by the unhealed scars from her trips through the portal, she fights to suppress her worry about her son, who remains out of contact in Lyric. But when a mysterious message hints Jake is in danger, she and her husband are swept away—to the place they least expect.
Clan rebellions. Lost Restorers. Has the One turned away, or will the face of the Deliverer bring light to the darkness?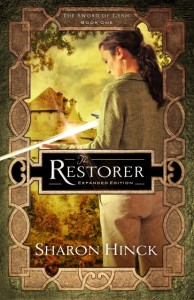 Sharon also wants you to know that The Restorer, book one in The Sword of Lyric series is free for Kindle right now (purchase >here<). Once you pick up The Restorer, I'm certain you'll devour the entire Lyric series.
Before you start reading though, let me introduce you to Sharon~
Happy Book Birthday, Sharon! I'm so excited for you, and can't wait to get my copy of The Deliverer. 🙂 Can you tell my readers about this book? What inspired it?
I fell in love with the characters of Kieran and Linette, and wanted to know more about how their story unfolded after they went to Hazor to share the Verses. I realized that with Jake being the new Restorer, Kieran would be in an awkward position. After all, he prevented a war by offering himself (a Restorer) to serve the Hazorite people. I wondered what King Zarek would do when he found out that Kieran no longer had Restorer gifts. I also had noticed the awkward and shy appreciation that Linette and Kieran had for each other, and wondered what it would take for them to acknowledge their feelings. This book ended up with more of a romantic thread than most of my stories—and it was great fun to watch that unfold.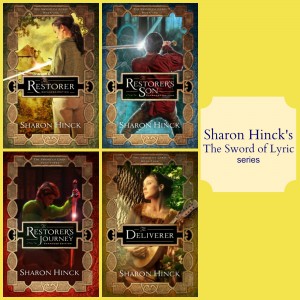 Now I'm even more eager to read it! The Deliverer is book four in your The Sword of Lyric series. Can you briefly tell us about the first three books?
The Restorer (currently FREE on Kindle!!! purchase >here<) introduces us to Susan, a middle-American mom who longs to serve God, but feels very ordinary and flawed. She's pulled into another world waiting for a promised Restorer—and she has the signs that mark her as their promised heroine. I feel like the story is a metaphor for all of us who feel inadequate and are called into "other worlds" we didn't expect. Perhaps a child struggles with a learning disability and we find ourselves making heroic efforts to support him. Or a friend battles cancer and we join her in this new universe with new vocabulary and new rules. Or a spouse loses a job, and we embark on a difficult journey of support and trust that we never expected to take. We all feel ill-equipped at times, yet God can use us to bless and support others, as He used Susan in her adventures.

For those new to the series, you shouldn't have trouble jumping in to The Deliverer, but if you have time, you could certainly read the first book (FREE on Kindle!) as an introduction to the world.

The Restorer's Son follows a new and very reluctant Restorer who would rather cross swords with the One than follow Him. The Restorer's Journey shares the experience of Susan's son, Jake, as well as Susan's very difficult experiences in captivity in Rhus.
I've read the first three books in the series, and I highly endorse the entire series for any reader! Sharon, when you're not writing, what do you enjoy doing?
I adore the times when a friend stops by to visit. A cup of tea, great conversation, sometimes praying together. I also love to dig around in my vegetable garden, make handmade cards, and Facetime with my granddaughter (and my kids, too). I love music, so playing piano, singing, or playing guitar are favorite activities. When we're able, my husband and I love to hike. Many of the scenes in the Sword of Lyric books were inspired by hiking trips.
Thanks again, Sharon, for stopping by! Hope you have a fantastic book birthday!
~*~*~
About Sharon~
Award-winning author Sharon Hinck writes "stories for the hero in all of us," about ordinary women on extraordinary faith journeys. She has been honored with a Christy finalist medal, and three Carol awards for her previous books.
Sharon's undergrad degree is in education, and she earned an M.A. in Communication from Regent University. She spent ten years as the artistic director of a Christian performing arts group, CrossCurrent. That ministry included three short-term mission trips to Hong Kong. She has been a church youth worker, a choreographer and ballet teacher, a home-school mom, a church organist, and a bookstore clerk. One day she'll figure out what to be when she grows up, but in the meantime she's pouring her imagination into writing.
Information about her novels as well as her devotional writing can be found at her sharonhinck.com website.
Connect with Sharon~
Blog | Facebook | Goodreads | Twitter | Book Buddy Newsletter
Purchase Sharon's books~