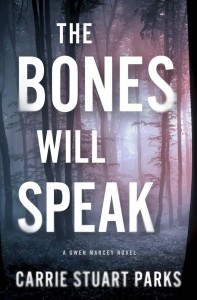 I usually do a Novel Anticipation post at the beginning of the month, but as I'm not the biggest contemporary or historical romance fan, the pickings are very slim. Not that I mind reading romance, but I prefer books that have more meat than romances typically offer.
This month only one book made my anticipation list: The Bones Will Speak by Carrie Stuart Parks. Carrie's debut, A Cry from the Dust, was one of my favorite reads from 2014, so I've been eagerly awaiting her sophomore work.
The Bones Will Speak
(A Gwen Marcey Novel book #2)
by Carrie Stuart Parks
Thomas Nelson
A killer with a penchant for torture has taken notice of forensic expert Gwen Marcey . . . and her daughter.
When Gwen Marcey's dog comes home with a human skull and then leads her to a cabin in the woods near her Montana home, she realizes there's a serial killer in their community. And when she finds a tortured young girl clinging to life on the cabin floor, she knows this killer is a lunatic.
Yet what unsettles Gwen most is that the victim looks uncannily like her daughter.
The search for the torturer leads back in time to a neo-Nazi bombing in Washington state—a bombing with only one connection to Montana: Gwen. The group has a race-not-grace model of salvation . . . and they've marked Gwen as a race traitor.
When it becomes clear that the killer has a score to settle, Gwen finds herself in a battle against time. She will have to use all of her forensic skills to find the killer before he can carry out his threat to destroy her—and the only family she has left.
About Carrie Stuart Parks~
Carrie Stuart Parks and Rick Parks met in the romantic hallways of the FBI Academy in Quantico, Virginia. They married in nineteen eighty-nine and formed a dynamic and successful team in their fine and forensic art, working on major national and international cases and creating exquisite watercolors and stone carvings. They travel internationally, teaching forensic art to a variety of participants: from the Secret Service to the FBI, from large law enforcement agencies to the smallest two-man departments in their one-week classes. They welcome civilian artists to attend their courses as well. Carrie has won numerous awards for her innovative teaching methods and general career excellence and is a signature member of the Idaho Watercolor Society. Rick has received national recognition for his exquisite art placed on musical instruments.
Carrie began her fiction writing career while battling breast cancer. Mentored by NY Times bestselling author, Frank Peretti, Carrie's debut novel garnered immediate interest by major publishing houses and landed her a three book deal at HarperCollins Christian.
Connect with Carrie~