*** eBook Giveaway ***
See below for contest rules
And the Winner is Nicole Petrino-Salter!
(post update on 9/14/15)
I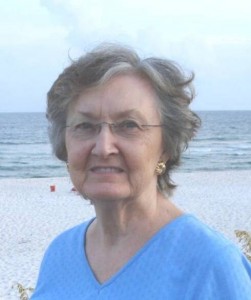 'm pleased to welcome back author Jo Huddleston. Jo visited this blog back in May when Wait for Me released. As Trust Me, Jo's second novel in the West Virginia Mountains series has recently released, she's returned to share her author journey. Her personal story is definitely an inspiration for all of us!
My Writing Journey
by Jo Huddleston
When I first wrote for publication all I had was aspiration and hope. I had not studied the writing craft but I had loved books and reading all my life. When I submitted my first short stories, rejections sped to my mailbox. It didn't take long for me to learn that I needed help.
I bought Writer's Digest and The Writer magazines. In them I discovered names of books about all aspects of writing, and lists of writing conferences.
The first writing conference I attended was the Professionalism in Writing School for Christian authors, in Tulsa, Oklahoma. I'd read in my new magazines that I should take samples of my writing, and business cards to identify myself. I didn't have business cards and was relieved when I read I could put my information on a 3×5 card and share that with people.
At the conference, after I registered, I noticed folks getting in another line before entering the auditorium. I followed them. When my turn came at the head of the line I saw they had put their names on sheets for 15-minute appointments with editors and agents. I signed up on an editor's sheet.
In the workshop sessions I made copious notes. I browsed the book room. When the editor's appointment time came, I went in the room, sat across the table from a perky young lady, and pushed my 3×5 card toward her without a word.
She looked at my card and said, "I'm Karen Ball." She was gracious to recognize that I was out of my depth and prodded me along by asking what I had brought for her to look at. I had been writing short prayers for women in circumstances they might find themselves, and I'd brought five prayers with me.
I didn't know that Karen Ball was a fiction editor. She could have told me so and to go sign up with a nonfiction editor. No—kind, sweet, and professional Karen Ball read each of my five prayers. She wanted to take my pages back to Tyndale House with her and I agreed. I did not know the significance of her doing so.
Not long after the conference, Karen phoned me that Tyndale would like me to write more prayers. The result was Tyndale published two prayer books by me—my first published books. As I began to learn the craft, I submitted short stories and articles—and got them published.
My first published novels are in the Caney Creek Series, set in the Southern Appalachians of East Tennessee where my ancestors and I were raised. This story percolated in my mind in the late 1990s. While this story continued to take shape, in 2001 I received a life-altering neurological diagnosis with a negative prognosis.
My mind was still intact but my body wouldn't do what I wanted. My balance while walking diminished, and I stopped going to writing conferences. In 2008, I began to improve and started my Appalachian story. I have outlived my doctor's prognosis by four years.
From 2001 to 2008, I had a lot of time to meditate. A relative marvels that I've never questioned "God, why me?" I have not become bitter because of the health issues. I think God just gave me time to understand a lot of things when I was inactive. I'm a more peaceful, patient, and faithful me.
The writing journey is never-ending. How could I not write? What writing ability I have comes from God and I must be the best steward of His gift that I can be.
~*~*~
~About Jo Huddleston
Jo Huddleston is a multi-published author of books, articles, and short stories. Her novels in the West Virginia Mountains Series and the Caney Creek Series are sweet Southern historical romances. She is a member of ACFW, the Literary Hall of Fame at Lincoln Memorial University (TN), and holds a M.Ed. degree from Mississippi State University. Visit Jo at www.johuddleston.com where you can sign up for her mailing list and read her blogs.
~Get in touch with Jo
Website | Christian authors' books blog | Inspirational blog | Facebook
Facebook author page  | Amazon author page | Goodreads | The Book Club Network: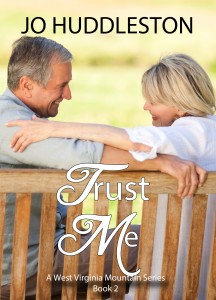 ~Trust Me Back Cover Blurb:
West Virginia, 1960
A mine owner. An elegant lady.
Seductive voices that scoff at trust.
Loreen Fletcher has suffered heartbreak. She resolves never to trust a man again. She has earned a respected position with no help from anyone, especially not from a man. At thirty-six, Loreen knows loving brings inevitable misery, and she won't pick at that scab again.
Claude Capshaw's life has taken another detour. Things that drove him no longer motivate him. Nothing fulfills him anymore—except that elegant lady at West Virginia University. Why won't she trust him when he tells her he'll never betray her?
~Purchase Trust Me: Amazon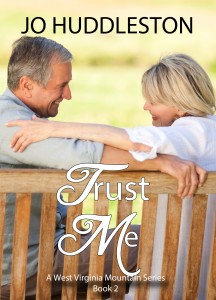 >>>eBook Giveaway<<<
Jo has graciously offered to give away one Kindle ebook copy of Trust Me. To enter, leave a comment below.
This contest ends Sunday, Sep 13, 2015 at 11:59 pm CST. I will post the winner on Monday, Sep 14, 2015. Winner will be chosen via Random.org.