*** Sale Ends Sunday, September 20, 2015! ***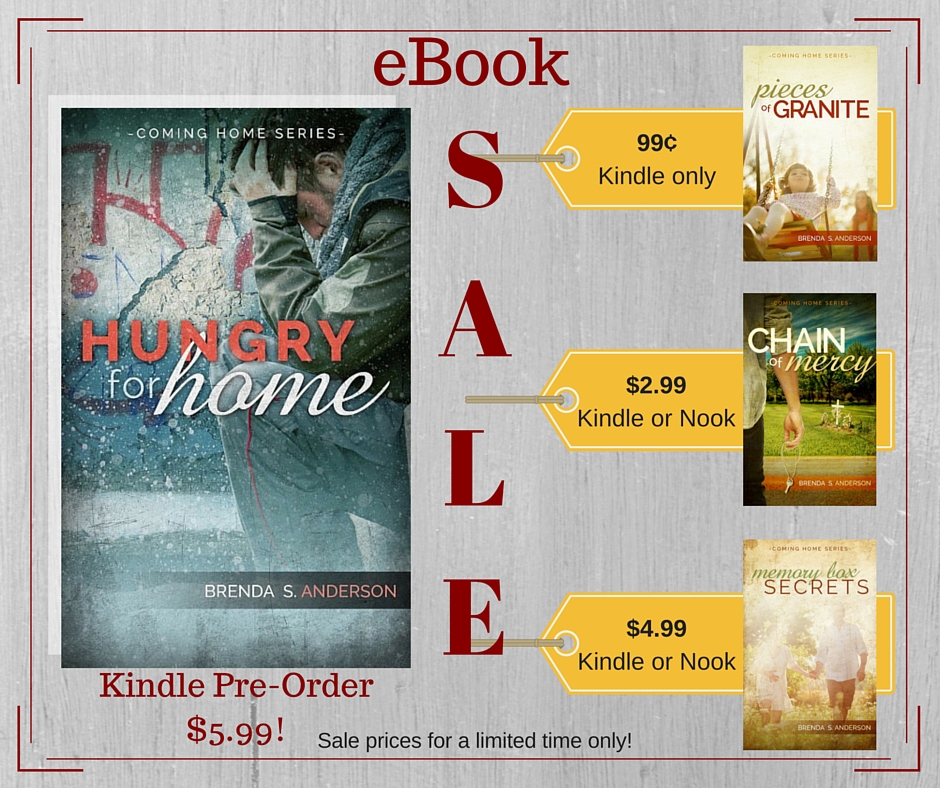 With the official release of Hungry for Home less than a week away, I figured it's a good time to have a sale. Having a good pre-order helps increase exposure for Hungry for Home on Amazon, so I'd love it if you'd share this with your reading friends. If they haven't picked up any of my books, now's the perfect time. Like any sale, this one's only temporary.
The Kindle version of Pieces of Granite is only 99¢, and the paperback at Amazon & B&N is a dollar off regular price. If you're a member of Kindle Unlimited, you can get Pieces of Granite FREE right now! Ebook purchase only at Amazon.
The Kindle and Nook versions of Chain of Mercy are only $2.99, that's $2.00 of their normal price. Amazon | B&N
Memory Box Secrets remains at $4.99. Amazon | B&N
The pre-order for Hungry for Home is $5.99. It will also be available in paperback & for Nook on release day. Amazon
In other news, I'm visiting with Emilie Hendryx on her Thinking Thoughts blog today, and I'm giving away an ebook version of Hungry for Home to someone who comments on the post: https://eahendryx.blogspot.com/2015/09/brenda-s-anderson-writer-wednesday.html