HUNGRY FOR HOME
now available
Amazon | B&N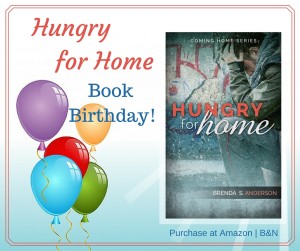 Thank you for joining in my celebration for Hungry for Home's book birthday! I'm serving calorie-free cupcakes and your favorite beverages. There's also a drawing below that I'm certain you want to enter.
I'm so excited to bring this story to you, not only to bid adieu to Richard and Sheila (which makes me sad), but also to share Austin's story with you. He's taught me so much!
If you're new to my blog, here's what Hungry for  Home is about:
After a troubling encounter with a pregnant teen, Sheila Peterson-Brooks hurries from the crisis pregnancy center into the frigid Minnesota winter where she is mugged and left for dead. After a frantic search, Richard, her husband, finds her, and the police quickly nab the mugger …
A hungry, homeless teen.
The brother of the pregnant girl Sheila had just counseled.
The girl pleads for her brother, and Sheila and Richard choose not to press charges. Instead, they open their home to the boy, a move that could cost them their possessions, and their hearts.
And, in the process, teach them the true meaning of home.
And now for the giveaway …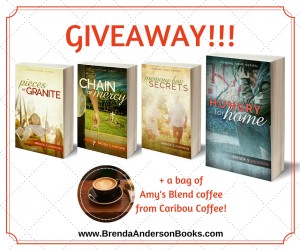 One winner will receive a Book Bundle that includes all four books from my Coming Home series in paperback plus a bag of Amy's Blend coffee from Caribou Coffee. (Caribou Coffee happens to be Sheila's favorite brand) To enter, fill in the Rafflecopter form below.