Hungry for Home now available!
Amazon | B&N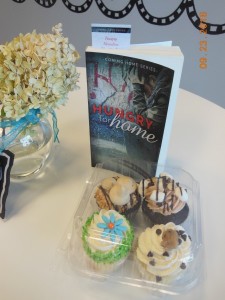 It's been a pretty crazy week with the release of Hungry for Home, and I have so many people to thank. Wish I could give you all hugs.
First, thank you to everyone who joined in my celebration last week–it was a fun time. 🙂 (Hope you didn't eat too many cupcakes!) And the winner of the Coming Home series + Caribou Coffee is Karen! Congratulations, Karen!
Thank you to all the readers who've taken a chance on my stories, and even liked them! That makes this stoic Minnesotan want to Snoopy dance.
Thank you to my Street Team for creating a buzz and spreading the word. Your enthusiasm for my Coming Home series really lifts me up!
Thank you to Stacy Monson, Laura Frantz, Kav Rees, Shannon Taylor Vannatter, and Stephanie Prichard for giving Hungry for Home and the Coming Home series such heartfelt endorsements! It doesn't seem that Thank You is enough.
Thank you to my family who's put up with me these past couple of years and haven't complained (too much) about making your own meals.
It's been a crazy journey so far, and I've been blessed to travel it with all of you!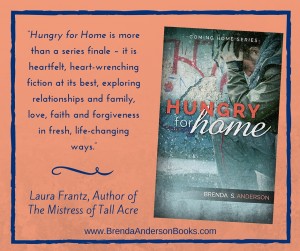 ---
"Hungry for Home is more than a series finale – it is heartfelt, heart-wrenching fiction at its best, exploring relationships and family, love, faith and forgiveness in fresh, life-changing ways. I see myself in these endearing, enduring characters, their weaknesses and struggles and hard-won triumphs. Although worthy as a standalone novel, this finale is best savored beginning with the Coming Home series prequel Pieces of Granite, Chain of Mercy, and Memory Box Secrets. Bravo, Brenda Anderson!"
—Laura Frantz, author of The Mistress of Tall Acre