The Winner is:
Veronica Arias!
(winner chosen using Random.org)
Book + Bookmark Giveaway!
See contest rules below
---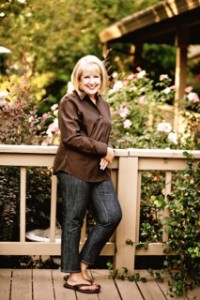 As you know, I enjoy stories that aren't all *sugar 'n spice*, authors who aren't afraid to talk about life's gritty and messy realities. Those types of novels have become difficult to find in Christian fiction, so I'm thrilled whenever a new book releases from Ginny L. Ytrrup. She tells tough stories about broken, messy lives, but tells them with love and grace. That same hold true for her new release, FLAMES.
Ginny has graciously stopped by to answer a few questions. Please welcome her!
Congratulations on your new release, Ginny! I'm very excited for you? Can you tell my readers about Flames? What inspired this book?
As I was out speaking the last several years, I heard one story over and over again—the story of adultery and its devastating impact on marriage. Because I write issue-driven fiction, I knew adultery had to be the topic of my next novel. And as a native Californian, pairing the destruction of adultery with the destruction of wildfire seemed an obvious choice. What isn't as obvious, perhaps, is the hope following both infidelity and wildfire—that hope became one of the themes of Flames.
Flames is my first book written for a general audience rather than specifically for the Christian market. I wrote the manuscript twice—once with an overt Christian message, but it didn't sell in the Christian marketplace and I wasn't settled with the story. So I set the manuscript aside for a year and during that time, God led me to completely rewrite it for a general audience. I can't explain why and I confess, I argued with Him a bit before surrendering to what I believe was His will. However, Flames does include themes of forgiveness, love, new life and hope—themes that come straight from the heart of God. At the core, Flames is a parable, I pray, like those Jesus told, and my hope is that readers will take away a sense of the importance of love—love for others, of course, but also love and respect for themselves as creations of God.
I have read Flames and can assure the reader that though the story isn't overtly Christian, God is at the heart of this novel.
What are you working on right now?
I'm in the pondering phase of writing, which means I have no idea what comes next. J For me, writing inspires faith. I have to wait on God and trust He'll give me the next story. I sense something swirling—a hint of an idea, maybe. When I'm in the pondering phase of the next novel, I'm highly productive in other areas of my life. Doing something else rather than obsessing on what I'll write seems to open my mind to whatever God has for me. Between now and Christmas, I'm focusing on my Etsy business—Storied Jewelry—vintage typewriter key and flatware jewelry. I'm creating new products and filling orders. Once October hit, orders for Christmas gifts started coming in. The process of making jewelry leaves my mind free to wander with God, listen to His whispers, and consider where He's leading.
And Ginny's jewelry is beautiful! She created the typewriter key bookmark that she's giving away with a copy of Flames. You can find Ginny's Etsy shop here.
What keeps you writing during the difficult times?
A deadline. 🙂 But also, discipline and grace. I've just come through such a time… Flames was set to release in May 2015 following a crowdfunding campaign to finance its publication. I had donors who I'd committed to and a publication team waiting for the final manuscript. In January, I received a 5:00 AM call from my 96-year old grandmother and knew immediately that my life was about to change. I threw on some clothes and rushed to her house, about 15 minutes away. It was the longest 15 minutes ever. When I arrived, it was evident she was having a stroke and I called an ambulance. That day, I set Flames aside and focused on my grandmother who spent six weeks in the hospital before we moved her to a board and care facility. My mother packed up my grandmother's home, I moved her things, had a garage sale, and took over my grandmother's estate—her finances, applying for benefits, etc. In the midst of it all, I also had to write. I missed my deadline, which is where grace came in—I had to offer it to myself and accept it from my donors and readers. I had days where panic tempted me, but God offered His strength and peace. I trusted His timing. My dear grandmother died in July following a second stroke. I miss her terribly but am so grateful she's no longer suffering—she is now with Jesus, which is where she longed to be. In the meantime, I finished the manuscript, and set a new release date: September 22nd. Which, as it turned out, fell in the middle of a record-breaking wildfire season in California—a devastating visual of the message the book offers. But also a reminder of regeneration—the new life that follows suffering.
I'm very sorry for your loss, Ginny. It has been a tough season for you.
And now, the most important question: milk chocolate, dark chocolate, white chocolate, or no chocolate? 🙂
Of course I have to answer this too. MILK!!!
---
~About Ginny L. Yttrup
Ginny is the award-winning author of Words, Lost and Found, Invisible, and Flames which releases September 22, 2015. She writes contemporary women's fiction and enjoys exploring the issues everyday women face. Publishers Weekly dubbed Ginny's work "as inspiring as it is entertaining." When not writing, Ginny coaches writers, critiques manuscripts, and makes vintage-style jewelry for her Esty shop, Storied Jewelry. She loves dining with friends, hanging out with her adult sons, or spending a day in her pajamas reading a great novel. Ginny lives in northern California with Bear, her entitled Pomeranian. To learn more about Ginny and her work, visit www.ginnyyttrup.com.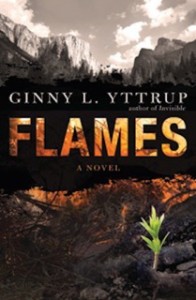 ~About Flames
The fourth novel from acclaimed, award-winning author Ginny L. Yttrup.
When betrayal's flames explode, can Jessica Weaver preserve what matters most?
As a fire archaeologist, preserving Yosemite National Park's natural and cultural resources is Jessica's job. As a wife and mother, preserving her family's legacy is her obsession. But when she discovers her husband's infidelity, betrayal's flames threaten her family and all she's fought to protect.
Haley Weaver, a sophomore in high school, is a daddy's girl. As she enters the throes of first love, timid yet intrigued, Haley also discovers her father's affair. Stunned and broken, Haley flees into the wilds of Yosemite National Park. If she can't trust her father, how can she trust her boyfriend—or even love itself?
When wildfire breaks out and Haley is missing, Jessica fears the worst. In a race against time, she searches for her daughter as she deals with the magnitude of what her husband's affair may cost her family. How can she go on if she doesn't find Haley in time?
And what will Jessica do to preserve the legacy that matters most?
~Get in touch with Ginny
Facebook | Twitter | Instagram | Newsletter | Website | Etsy Shop
~Purchase links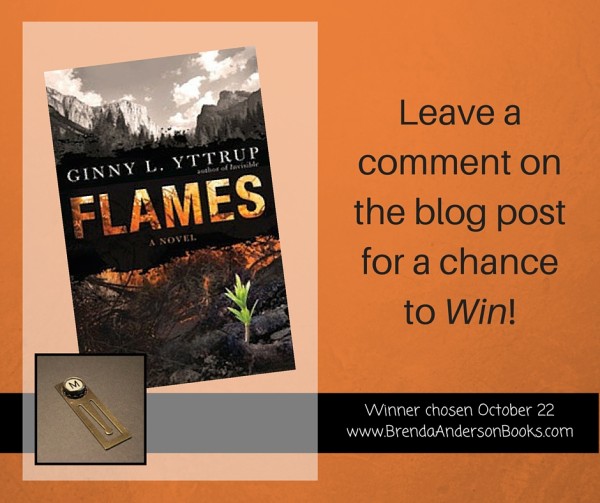 >>>Book + Typewriter Key Bookmark Giveaway<<<
Ginny has graciously offered to give away one copy of Flames plus a home crafted typewriter key bookmark. To enter, leave a comment below.
This contest ends Thursday, October 22, 2015 at 11:59 pm CST. I will post the winner on Friday, October 23, 2015. Winner will be chosen via Random.org.