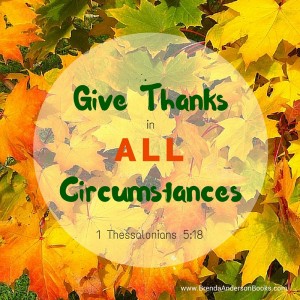 So far it's been a tough holiday season. My mom's been ill for a few years, yet her decline has been very gradual until this past month when it's worsened like a snowball rolling downhill. Every day she seems to grows weaker, less coherent. Needless to say, it's not easy to be thankful right now.
Yet, 1 Thessalonians 5:18 directs to be thankful in ALL circumstances. Really? How can we possibly give thanks when bad things happen? When our loved ones are hurting?
Perhaps our focus is on the wrong word. Perhaps, rather than highlighting the word ALL, we should highlight that seemingly tiny, almost invisible preposition, IN. God's not asking us to be thankful for all circumstances, but rather IN all circumstances. Big difference.
During these difficult times, I am still thankful for so much, at the top of the list being my very large, close family. Yes, this is a tough season for all of us, but we're all banding together, supporting–loving–Mom and Dad. My parents aren't alone as so many elderly are. No one's been more grateful than my dad.
So no, I'm certainly not thankful for all circumstances, but within each trial there is hope, and for that we give thanks.