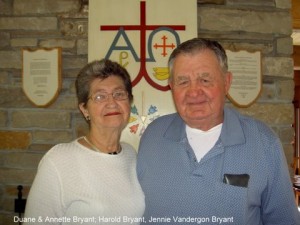 This past week, Heaven flung open its gates, and Jesus opened wide his arms, as trumpeters heralded in a new soul. No, I'm not speaking of those three actors/musicians who've recently made the headlines and whose names have been plastered all over Facebook in recent days. I know nothing of their faith to make a judgment.
But I have no doubt about my mom, Annette Bryant. Mom is now living pain-free, all her memories have returned, and she's singing her rich alto in Heaven's choir. I will miss her, but I'm soooo very happy for her.
Mom didn't preach her faith, rather she lived it out loud for the world to see and hear.
And they did!
In her last months spent in the care center, Mom was rarely alone. Usually when I visited, she was surrounded by a half dozen additional people. She not only had her large family visiting her, but also church members, neighbors, relatives, friends.
In spite of temperatures that stayed well below zero during the visitation on Sunday and funeral on Monday, both events were greatly attended. There was little floor space to move at the visitation, and at the funeral, not a single pew was empty.
There wasn't a kinder, gentler soul on earth than my mom, and I often wished I had inherited her temperament. But she did pass on her love of music. For 50+ years she sang in her church choir, and right up to her last days on Earth, she sang the alto harmonies to oft-sung hymns and Christmas carols. She deeply loved all her children, children-in-laws, and numerous grandchildren, plus one great grandchild. And she and Dad demonstrated what true love really was. Just a day before Jesus welcomed her home, Mom's final words to Dad (her husband of 57+ years!) were "I love you."
I am so blessed to have been placed in this family. We're not perfect–far from it–but we did learn how to love, and that's a tribute to my mom. Over the past several days, there's been a lot of tears, but also a lot of laughter, including some egg-throwing and table-walking (no alcohol involved!) by a beloved aunt. I'm certain Mom was laughing right along with us.
So no, Annette Bryant's passing didn't make the big city newspapers, and her name and face weren't plastered all over Facebook — not on earth anyway. I have no doubt that in Heaven's newspaper, Mom's arrival was a headline, and the media pages were filled with rejoicing!
I'll leave you with a poem for my mom written by my very talented son, Bryan Anderson, who's a far better wordsmith than I am:
See you again, grandma.
Untitled
By Bryan M. Anderson
When love is lost to the void,
We're told false truths to ease
Into a life without them with us.
"They're in a better place now."
"They're no longer in pain."
But what about the rest of us?
We're now in a worse place!
The pain has grown exponentially!
We try to see the point of those
Making an attempt to comfort,
But it gets blurred by the tears
That fall from our grieving eyes.
When part of our lives is forever lost,
How can we feel anything but emptiness
Where they just were moments ago?
How can it be all okay again?
Do you really expect us to just move on
With our lives like they never even existed?
Let me have my memories at least of the good times.
Let me look back in fondness at who I remember.
Don't quote logic to my face right now.
Or I'll shove your pathos back into your face.
It's not what I need or want right now.
I just want them back.
The reason I left this poem untitled is the fact that this emotion cannot be quantified and given an individual label. It just is. I wish it wasn't.
---
A Song for Mom ~ "No More Night" by David Phelps