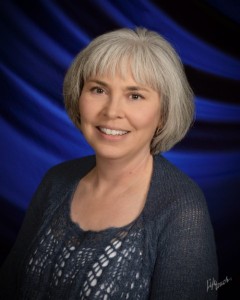 And the winner of
The Lassoed by Marriage
Novella Collection is
*** Deanne Patterson ***
Congratulations, Deanne, and thank you for stopping by to visit with me and Rose!
---
I'm honored to have special guest, Rose Ross Zediker, visit the blog today! I met Rose via the Inkspirational Messages blog, which we both contribute to, and I'm thrilled to have a front row seat to Rose's prolific writing career.
This month Rose released a story as part of a Barbour compilation with eight other authors, and I'm excited to give her a shout-out.
So, here's Rose and her Favorite Things …
Thank you, Brenda, for inviting me to be a guest on your blog today. I'm very excited to be here. Although I do work a day job, I stop by periodically to respond to any comments. So don't hesitate to leave a comment or ask a question. By leaving a comment you'll be entered in my book giveaway. Today, I'm giving away one copy of The Lassoed by  Marriage novella collection! My release, Railroaded into Love, is part of this inspirational novella collection. Here is the back cover copy:
Montana 1895-Molly is tainted by having an outlaw brother on the run and seems the least likely bride for a pastor of a chapel railroad car. Forced together by duty to family and faith, can they build a life and mission together?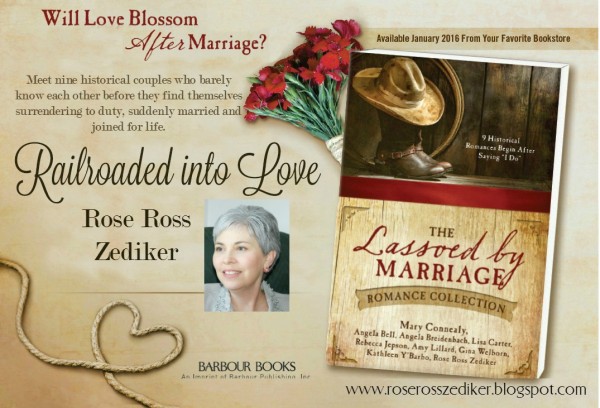 Since I may be a new author to you, I thought I'd share some of my favorite things. Feel free to ask me any questions about them or chose one topic and leave a comment telling me what some of your favorite things are or even better what types of themes you enjoying reading!
My Favorite Things
(Now, I have Julie Andrew's singing in my head. How about you?!?)
Type of Book – Cozy mystery. I love trying to figure out 'who done it'.
Book – My all-time favorite book is The Bad Seed. I think it's my favorite because it's the first book I read with a plot twist at the end. A plot twist that definitely did not see coming!
Author – Right now I'd say my favorite author is E. J. Copperman (Jeffrey Cohen).
Movie – Hands down, Cat Ballou!
Entrée – This is a tough one. I'm going to go with Lemon Chicken Piccata at Spezia.
Dessert – Lemon meringue pie
Chocolate – York Peppermint Patties
Restaurant – Spezia
Beverage – Good coffee. I'll admit it. I'm a coffee snob!
Season – Winter-no seasonal allergens!
Animal – Horse
Type of Music – County and old Rock 'N Roll
Song – O Holy Night
Musician – Donny Osmond
Bible Verse – Psalm 39
Color – Pink
Item to Collect – I'm not really into collecting, but I have been trying to find old Jewel Brite Christmas ornaments for a vintage Christmas tree. So let's go with that!
Hobby – sewing. It's my relaxation!
Flower – Lilac (bet you thought I'd say rose!)
Holiday – Christmas
Vacation Location – Hmmm…this is a toughie. We seldom go to the same place twice. I do like southern California and New York City.
---
About Rose ~
Multi-published author and RITA finalist, Rose Ross Zediker, writes contemporary and historical inspirational romances and has over one hundred publishing credits in the Christian magazine genre for children and adults. Her titles have appeared on ECPA bestseller lists and been finalists for the RITA, National Reader's Choice, Booksellers Best and Book Buyers Best award contests. Rose is a member of the American Christian Fiction Writers and Romance Writers of America.
Get in Touch with Rose ~
Purchase Rose's books at ~
Amazon | B&N | CBD
Or ask your favorite bookstore to order it for you!
---
Book Giveaway
Rose has graciously offered to give away one paperback copy of The Lassoed by Marriage Romance Collection. To enter, in the comments below you may ask Rose a question, or tell what some of your Favorite Things are, or mention what type of themes you enjoy reading or all of the above!
This contest ends Sunday, January 31, 2016 at 11:59 pm CST. I will post the winner on Monday, February 1, 2016. Winner will be chosen via Random.org.