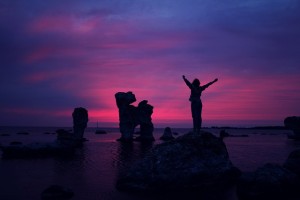 Business-wise, this past week has been a good one for me. My first release, Chain of Mercy, was accepted for a BookBub ad (the queen-maker of book promotion sites) and that ad ran last Tuesday. Since then all of my books have been selling–a lot!–and most of them have made Amazon's Top 100, even Top 10, of various categories. Chain of Mercy even stayed at #1 in several categories for a few days. In this past week, I've made almost as much money as I earned all of last year.
So yeah, it's been good, and there's a good part of me that's rejoicing, telling myself "I've finally made it!"
But have I? Is a good sales week what defines me? Is good sales equivalent to success?
This morning I read the first passage in A Sudden Glory by Sharon Jaynes, a passage that could easily have been about me, and one Bible verse stuck out:
"For in him we live and move and have our being."
Acts 17:28
In Him.
We don't discover who we are in book sales. Or in sales rankings. Or in worldly fame. But In Him. We live in Him. We move in Him. We have our being–we breathe!–in Him. He defines me. Remaining in Him makes me a success. Everything else is fluff.