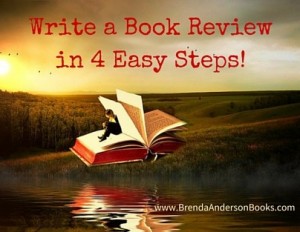 It's no secret that authors love book reviews, and finding a new 5-star review, especially on Amazon and Goodreads, always makes their day. Often, the problem is getting readers to write those reviews for us. As authors know, it's a scary thing to put your words out there for everyone to see.
But honestly, it's not difficult. I've received reviews that are as basic as "Good read." to reviews that are several paragraphs long. I like both.
So for those of you who want to support your favorite authors by writing reviews, here's a simple format to follow:
Read the Book!
I liked this book because …
I would recommend this book to …
Rate the Book
Let me break that down a little more.
Read the Book! … Sounds obvious, I know, but you'd be surprised how many people write reviews for books they never read.
I liked (loved!) this book because …
Consider plot, characters, setting, prose, story pace, message, relevance, your emotional response, character arc, or any other reason that comes to you. It's all valid.
I would recommend this book to …
Who is this book's target market? Teens? Fantasy readers? Women's fiction … romance … historical … family drama … etc.
Rate the book … Keep in mind that ratings on different book review sites mean slightly different things.
Amazon
5* – I love It
4* – I like it
3* – It's okay
2* – I don't like it
1* – I hate it
Goodreads
5* – It was amazing!
4* – Really liked it
3* – Liked it
2* – It was okay
1* – Did not like it
Other tips & possible inclusions:
Add story summary. One to two sentences summarizing the book's hook, not the entire story. In my opinion, this isn't necessary as the reader can look at the story description. ***Do Not Give Spoilers!***
Improvements. What you didn't like about the book. What could be improved.
Include Impact. A moment in the story that really made an impact on you. Again "No Spoilers!!!"
Characters you'd like to learn more about
Use words authors love (favorite words used in Chain of Mercy reviews): page-turning, gripping, unforgettable, mesmerizing, Wow!, exceptional, authentic, well-written, captivating, heart-warming, could not put down, powerful, must-read.
Be honest
Do Not Give Spoilers! I know I said this above, but it's worth repeating. The (typical) reader wants to be surprised by plot twists and the ending.
Still hesitant? Well, let me get you started ~ just fill in the blanks:
I (loved, liked, enjoyed, hated) ___Book Title___ because ________ and ________ and _______. I would recommend this book to _________. 5 stars! *****
And you're done! See that wasn't so bad, was it? If you'd like to give it a try before posting on Amazon or other book review sites, post a review below of your favorite book.
Have you ever written book reviews? What additional tips would you give for writing reviews?