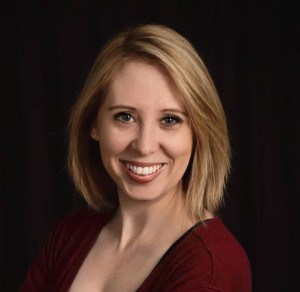 And the winner of
Grace in the Flames
by Michelle Massaro is
*** Nicole ***
Congratulations, Nicole, and thank you for visiting with me and Michelle!
---
Many of you know Michelle Massaro from the fun and popular Clash of the Titles blog where authors face off with their newest release and readers vote for which book they find the most worthy.
Michelle has just released her debut novel, Grace in the Flames, and has graciously stopped by to answer a few questions. She will be giving away an ebook copy of Grace. To enter, see contest rules below.
Congratulations, Michelle, on your debut release! How exciting! And welcome to my blog. Can you tell my readers about Grace in the Flames? What inspired this book?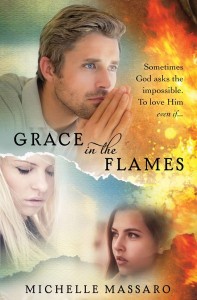 A deadly fire, a dangerous temptation, a desperate heart. When three lives intersect, God asks them to do the impossible. To love Him even if…  That's the log line for Grace in the Flames and I think it does a good job of giving you a hint of the flavor and substance you find in the book. As each character responds to the challenges they face—homelessness, loss of life, a sense of betrayal by God—their paths intertwine into a messy, beautiful story of grace and surrender.  That last sentence of the log line above, to love Him even if, was the idea behind the inspiration for this book. Would I still love God if I were to suffer like Job? If the unthinkable happened in my life, would my faith survive? Could I hold onto those I love with an open hand, ready to release them should He require it of me? I wrestled with these questions as I wrote the story and felt God stretching my faith in the process.
What a great concept, one that many of us can relate to. Could you tell us about your journey to publication?
The idea for Grace in the Flames sprouted years ago, probably about 2005 or 2006. Back then the idea of writing a story was a lofty dream. I made half-hearted attempts to develop the concept—at one point it was going to be a historical set somewhere in Europe—but I never got very far, and I never told anyone. It was in 2007 I believe, when I was inspired by Stephanie Myers' story of writing her books during her kids' swimming lessons that I sat down at my screen determined to get an entire story written. I had no clue where to start such a monumental task so I started searching online for guidance. I ended up finding a NaNoWriMo board, and the Snowflake Method, both of which were so helpful in those early days. I wrote and rewrote this story multiple times over the next 8 years, learning the craft, attending conferences, finding mentors and critique partners. In 2012 the manuscript was a Genesis finalist under the original title, Beauty for Ashes. I rewrote the story again, sent it around to the big pub houses, and got great feedback. But it was not ultimately picked up. I finally decided last year to go ahead and release my baby on my own. Ultimately, I think this was the best choice for me for this title. It's so near to my heart that I'm glad I have all the control in the final manuscript, the cover, etc. and it was time.
I was also a Genesis finalist in 2012, and you probably don't remember, but we sat at the same table for the awards gala. 🙂 So glad you're bringing that book to print! What are you working on right now?
I'm about to release my second novel, a fun dual-genre story I co-wrote with the amazing April W Gardner called Better than Fiction. It's Women's fiction wrapped around a historical romance set in 1916 Corona during the height of its auto racing glory. The short description is: While creating a fictional romance between her 1916 heroine and a reckless racecar driver, a novelist falls prey to an emotional affair with the man who inspires her handsome hero. Corona, California is my hometown and it's been a blast to dig into our rich history. The release will coincide with the town's 100th anniversary of the final race, and we are so excited! We have a Facebook page set up for the book: www.facebook.com/betterthanfiction2016 and will be offering a free digital copy to subscribers, so check that out!
When you're not writing, what do you enjoy doing?
I love musical theater and old Rogers and Hammerstein movies, hanging out with my teens watching Once Upon A Time (though it isn't what it used to be, we've bonded over the show. Plus, everyone says that my husband looks like Neal Cassidy [Michael Raymond James],)  and I recently WON a karaoke contest singing What I've Been Looking For from High School Musical with my hubby at our church's Valentine's Day dinner. =)
Oh I love Rogers and Hammerstein musicals and Once Upon a Time (a family favorite!) Your husband does resemble Neal.
And the most important question: milk chocolate, dark chocolate, white chocolate, or no chocolate? 🙂
You forgot the correct answer: ALL OF THE ABOVE.
Either / Or
Loud or Quiet? Quiet
Milk Chocolate or Dark Chocolate? Milk
City or Country? City
Cat or Dog? Both
Book or Movie? Both
Introvert or Extrovert? Introvert
Thanks again, Michelle, for dropping by today! It was a joy getting to know you!
---
About Michelle Massaro ~
MICHELLE MASSARO writes contemporary fiction soaked in grace. She makes her home in Southern California with her husband of over two decades and their four children. She's dabbled in homeschooling, teaching Creation Science, and leading worship. When she isn't tinkering with words, Michelle enjoys old Rogers and Hammerstein movies, making kefir, and Sudoku. A new lipstick and a good French roast always make her happy.
Find Michelle at ~
Facebook | Twitter | Instagram | Website | Better Than Fiction Facebook Page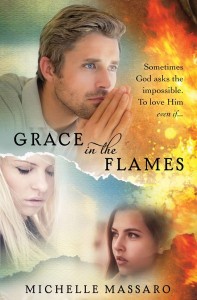 About Grace in the Flames ~
Three people. One God of grace.
John Douglas thought he knew the future God had for him–raise a family and grow old with his bride, Hannah. But then a deadly house fire incinerates his faith, destroying the man he'd been.
Worship leader Jenni Dupont conquered her demons years ago and has the scars to prove it. But temptation strikes when her world is shattered, and this time she's not sure if God can carry her through.
Bar waitress April Johanson lives with the secret trauma of an abusive past. Desperate to stay off the streets of Vegas, she'll do whatever is necessary to pay the rent.
When their lives intersect, God will ask them to do the impossible. To love Him even if…
Purchase Grace in the Flames ~ https://amzn.to/1Y8EcPA
Links embedded in author answers:
April Gardner:  https://www.facebook.com/AprilGardnerBooks
Karaoke:  https://candy.wistia.com/medias/pl57k4a91k
Hubby's lookalike:  https://bit.ly/1QHPgBI
---
Book Giveaway


Michelle has graciously offered to give away one ebook copy of Grace in the Flames. To enter, in the comments below

answer the same Either/Or questions

Michelle answered above.
This contest ends Sunday, March 20, 2016 at 11:59 pm CST. I will post the winner on Monday, March 21, 2016. Winner will be chosen via Random.org.