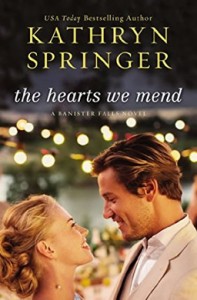 So far this year I've read eighteen books and, for the most part, they've been okay reads, but few have wowed me. Much of that is owed to me being a super-picky reader–it's not easy to make my Favorite list. So when a book does make that list, I have to tell you about it.
The Hearts We Mend by Kathryn Springer is a gritty, real-life, authentic characters romance. The romance developed slowly and organically while getting to know imperfect characters. Evie is your stylishly dressed, consummate planner who's also the Director of Women's Ministry at her church while Jack is your rough-around-the-edge, take-life-as-it-comes maintenance man at her church, so conflict is naturally built-in. But, the author doesn't stop there as Evie is drawn out of her comfort zone into a rough part of town where she's introduced to a colorful variety of people Jack is serving simply because that's who is he. Now that's swoon-worthy! Combine these well-deep characters with a page-turning story, and you have a book I couldn't put down.
While this is book #2 in the Banister Falls series, you could easily get into it without reading book #1, The Dandelion Field – but you'll want to read book #1 anyway. I'm hoping there will be a third Banister Falls book from Kathryn Springer.
About The Hearts We Mend ~
Planning and Post-It notes are the epitome of Evie's life. But when she meets Jack, her life gets more than a little complicated.
Thirteen years ago, Evie's firefighter husband was killed in the line of duty, leaving her to raise their young son, Cody, alone. Now, Cody is marrying the love of his life, and as he packs up his belongings, the house feels as empty as Evie's heart. But for all her planning and mad organizational skills, Evie could never have anticipated the dramatic shift her life is about to make.
Tattooed, rough-around-the-edges Jack raises quite a few eyebrows in the tight-knit community of Banister Falls. Where Evie's life is stream-lined, Jack's approach to living is moment-by-moment. But as Evie gets drawn into Jack's world—a world that isn't as safe or predictable as the one she's worked so hard to create—he challenges her to open her eyes to the problems outside the walls of the church.
Jack doesn't make Evie feel comfortable, but he definitely makes her feel something. Something she hasn't felt since Max passed away—or, maybe ever. Because even though Jack isn't anything like her late husband, he just might be everything she needs.