*** Book Giveaway ***
Enter Below
---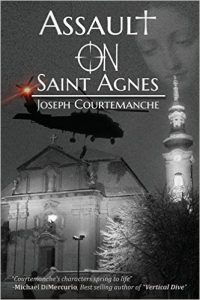 One of my favorite modern-day authors is Vince Flynn  (who unfortunately passed on a few years back). I loved his realistic portrayal of geo-political issues, and in spite of not always agreeing with Mitch Rapp's (Vince's hero) method of dealing with the bad guys, you still rooted for him. I always wondered what a Christian would do given the same situations.
Well, that question's been answered in Joseph Courtemanche's Assault on Saint Agnes. The book begins right after the church of Saint Agnes was attacked by terrorists. Rather, the bad guys attempted to attack, but their plans were foiled by former spook and Arabic linguist, Bobby Kurtz, who was simply at the church to worship. He did worship that day, by saving all but one parishioner and eliminating the terrorists.
That's just the beginning of Bobby's problems as he's *asked* to become part of the shadow government, and they begin uncovering a far more hideous and widespread terrorism plot.
Bobby Kurtz is a very unlikely hero when you first meet him, as he's been retired from the military for several years and has since bulked up to Santa size. And yes, jokes abound at Bobby's expense, but Bobby always has a comeback. He's got this sarcastic wit that makes me laugh out loud, and makes him come across as not only likeable but very realistic.
And then there are the scenes told from the terrorists' point of view as they're planning their impending attack. The scenes are chilling in their realistic portrayal. Knowing the author has experience in these types of scenarios, you realize not only how true-to-life those scenes are, but how plausible they are. Adding to the chill-factor is the fact that this book takes place in my back yard, and many of the locales mentioned are places I frequent.
One other aspect of this story I really enjoyed was the romance between Bobby and his wife, Grace, again painting a realistic portrayal of a husband and wife who love and respect and fight with each other amidst the turmoil of their lives. The relationship makes Bobby seem just like the rest of us.
So, if you're looking for a sweet romance or cozy mystery, pass on this book, but if you want a can't-put-down thriller, you'll love Assault on Saint Agnes! I can't wait for Joe's next book, which won't be out soon enough!
Also, if you didn't read the introduction to Joseph Courtemanche on my Tuesday blog, go here to catch up.
---
About Assault on Saint Agnes ~
When terrorists assault Saint Agnes Church in St. Paul, Minnesota, they expect to find a congregation of lambs: they get Bobby Kurtz, instead.  An unrepentant Cold Warrior, Kurtz destroys the terror cell with violent finality.
Against his will, Kurtz is pulled back into the life he left behind decades before.  He reluctantly picks up the burden of hunting the terrorists in our midst.  He risks his life, and his marriage, in a single-minded pursuit of victory over evil.
Working with a shadowy government agency, Kurtz uses all of his skills and experience to foil a plan that would plunge the Twin Cities back into the Stone Age.  The final battle rages across the plains during a Christmas Eve blizzard in a story that will leave the reader pleading for more of Kurtz and his team of experts.
Purchase Assault on Saint Agnes ~
Amazon | B&N | Autographed by Author
About Joseph Courtemanche ~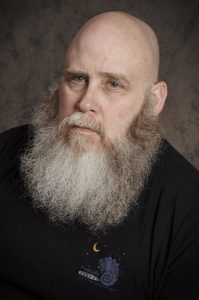 Joseph Courtemanche is a former Police Officer and Middle East/North Africa analyst. He is a distinguished veteran of the Naval Security Group of the United States Navy, and an Arabic Linguist with training at the University of Minnesota and the Defense Language Institute (Honors Graduate). Joseph holds several military awards, including two flag letters of commendation for his work in providing real-time intelligence support to commanders in the field. His experience provides the background that's crucial to his writing in the thriller genre. He is a graduate of the University of Minnesota, Minneapolis, and holds degrees from two other colleges as well.
Find Joe at ~
---
*** Book Giveaway ***

Joe has graciously offered to give away two paperback copies of Assault on Saint Agnes! To enter, fill in the Rafflecopter form below.
This contest is open to residents of the continental US states only. Contest ends Tuesday, April 26, 2016 at 12:00 am CST. Winner will be posted on Wednesday, April 27, 2016.