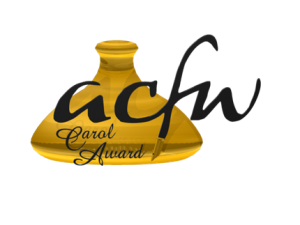 Congratulations to all the Carol Award Finalists! For those of you unfamiliar with this award, it's given by the American Christian Fiction Writers (ACFW) in recognition of the best Christian fiction published during the previous calendar year. As a Christian fiction author, this is one of the most highly coveted awards out there.
I'm especially excited for friends Erica Vetsch (who swept the Novella category with three finals!) and Elizabeth Goddard who's a finalist in the Romantic Suspense category.
Another author to note is Robin Patchen, a finalist in the mystery/suspense/thriller category with Finding Amanda. What makes her stand out is that she's a Qualified Independent Author (QIP). In other words, her novel in independently published. To see Finding Amanda make the final's list is definitely a boost for all indie-published authors in Christian fiction. This book has now moved to the top of my must-read list.
The winners will be announced on August 27 at the ACFW Awards Gala in Nashville, TN.
Congratulations to all the 2016 Carol Award Finalists!
Contemporary:
Finding Me by Kathryn Cushman, Bethany House (Baker) Publishing, editors David Long, Charlene Patterson
The Art of Losing Yourself by Katie Ganshert, Waterbrook/Multnomah (Random House), editors Shannon Marchese, Lissa Halls-Johnson
As Waters Gone By by Cynthia Ruchti, Abingdon Press, editors Ramona Richards, Jamie Chavez
Historical:
Shadows of Ladenbrooke Manor by Melanie Dobson, Howard (Simon & Schuster), editors Beth Adams, Jenny Baumgartner
Secrets She Kept by Cathy Gohlke, Tyndale House, editors Stephanie Broene, Sarah Riche
Luther and Katharina by Jody Hedlund, Waterbrook/Multnomah (Random House), editor Shannon Marchese
Historical Romance:
Beyond All Dreams by Elizabeth Camden, Bethany House (Baker) Publishing, editor Raela Schoenherr
Through Waters Deep by Sarah Sundin, Revell – A Division of Baker Publishing Group, editor Vicki Crumpton
A Worthy Pursuit by Karen Witemeyer, Bethany House (Baker ) Publishing, editors Dave Long, Charlene Patterson
Mystery/Suspense/Thriller:
The Aleppo Code by Terry Brennan, Kregel Publications, editors Dawn Anderson, Jannelle Tromp
Blessings in Disguise by Nancy Mehl, Guideposts Publications, editors Susan Downs, JoAnne Simmons
Finding Amanda by Robin Patchen, ACFW QIP (Independently Published), editor Holly Lorincz
Novella:
A Bride for Bear from The Convenient Bride Collection by Erica Vetsch, Barbour Publishing, editor Rebecca Germany
A Palace on the Plains from The Most Eligible Bachelor Romance Collection by Erica Vetsch, Barbour Publishing, editor Rebecca Germany
The Archaeologist's Find from The Homestead Brides Collection by Erica Vetsch, Barbour Publishing, editor Rebecca Germany
Romance:
The Beekeeper's Son by Kelly Irvin, HarperCollins Christian Publishing, editor Becky Monds
Until the Harvest by Sarah Loudin Thomas, Bethany House (Baker) Publishing, editor David Long
Crazy Little Thing Called Love by Beth K. Vogt, Howard (Simon & Schuster), editors Jessica Wong, Beth Adams
Romantic Suspense:
No Place to Hide by Lynette Eason, Revell – A Division of Baker Publishing Group, editor Andrea Doering
Submerged by Elizabeth Goddard, Love Inspired (Harlequin), editor Elizabeth Mazer
Miracle Drug by Richard L. Mabry, M.D., Abingdon Press, editor Ramona Richards
Short Novel:
Covert Justice by Lynn Huggins Blackburn, Love Inspired (Harlequin), editor Elizabeth Mazer
The Christmas Family by Linda Goodnight, Love Inspired (Harlequin), editor Allison Lyons
The Doctor's Second Chance by Missy Tippens, Love Inspired (Harlequin), editor Emily Rodmell
Speculative:
Vinnie's Diner by Jennifer AlLee, Abingdon Press, editors Ramona Richards, Katherine Johnson
Heir of Hope by Morgan L. Busse, Enclave Publishing, editor Karen Ball
The Five Times I Met Myself by James L. Rubart, HarperCollins Christian Publishing, editors Amanda Bostic, Erin Healy
Young Adult:
Angelhood by A.J. Cattapan, Vinspire Publishing, editor Jessica Damien
The Golden Braid by Melanie Dickerson, HarperCollins Christian Publishing, editor Becky Monds
Dauntless by Dina L. Sleiman, Bethany House (Baker) Publishing, editor Karen Schurrer
Debut:
The Thornbearer by Pepper Basham, Vinspire Publishing, editor Jessica Damien
The Calling of Ella McFarland by Linda Brooks Davis, Mountainview Books LLC, editor Carol Kurtz Darlington
The First Principle by Marissa Shrock, Kregel Publications, editor Dawn Anderson