I first met Stephanie Prichard and her husband Don several years ago at the Colorado Christian Writers Conference. We were both just starting out, just beginning to traverse the long and seemingly circuitous writing road. Then a year or two later we met again at the Colorado conference, this time in an advanced continuing ed class led by Angela Hunt and Nancy Rue. Since then we've become critique partners–goodness, has she taught me a ton!–encouragers and best of all, friends. I've had so much fun watching the success of Stranded, her debut novel co-written with her husband, Don, which is nearing 1000 reviews on Amazon! No, that's not a typo. All I can say is WoW! And I'm ecstatic with 100! If you haven't read Stranded yet, go get it right now.  You'll love it!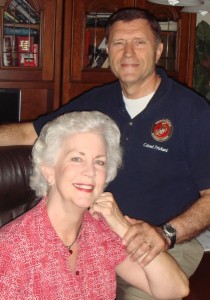 About Stephanie & Don Prichard ~
Stephanie and Don Prichard are co-authors of this exciting debut novel. Don is a retired architect and U.S. Marine Corps reservist. Stephanie wrote as a columnist in several online Christian magazines, and is now dedicated to writing suspense with her heart-pounding storytelling husband. They live in Indianapolis, IN, where they raised their three children and at last get to relax and spoil their grandchildren.
Connect with Stephanie & Don ~
Books by Stephanie & Don ~
Question of the Day: If stranded on a deserted island, besides the Bible, which book would you like to have with you?