No matter what you do, it's vital to have the support of those who've gone before you to lead, teach, mentor, and encourage you. In my writing career, I've had the privilege of meeting several established authors, but two have become more than the "I once-met-so-and-so": Sharon Hinck and Laura Frantz.
I first met Sharon at a Minnesota Writers Guild meeting, back when Sharon's first novel was releasing. It wasn't long after that that she opened up her home for a writing / critiquing day. An opportunity to learn from a gifted, award-winning author? I'd have been a fool not to accept. Since then, Sharon has graciously continued to mentor me and several other authors, paying her gift forward. What I've learned from her, not just as a writer, but as a person, a child of God, is immeasurable. Sharon is one of the most genuine, thoughtful, Jesus-loving people I know. I'm so very thankful God placed her in my life!
As for Laura Frantz, I was introduced to her upon reading her debut novel, The Frontiersman's Daughter. Usually, I'm not a big fan of historical fiction, but Laura's symphonic prose captured me from the first sentence. Add in vivid settings, complex characters, and page-turning story, and she had a novel I couldn't put down. I had to write her and let her know how I enjoyed her debut. To my surprise, she returned a gracious Thank You. Since then, every novel she's written has captured me the same way, and I find myself hungering for the next work by Laura Frantz.
Then when my debut, Chain of Mercy, was coming out, I was seeking a few influencers already established in Christian fiction, and I contacted Laura. To my surprise, she gladly signed on, and then continued to support each book in my Coming Home series. That included writing a beautiful endorsement for my finale, Hungry for Home. To have an author of Laura's caliber in my corner is very affirming … and humbling. Besides that, and perhaps more importantly, Laura is a genuinely kind, giving, encouraging, breath-of-fresh-air person whom I'm blessed to call friend.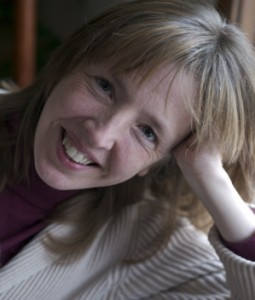 About Sharon ~
Sharon writes "stories for the hero in all of us" – uplifting and entertaining novels about ordinary people called to extraordinary challenges.
She's won several Carol awards for both contemporary Christian fiction and fantasy, and was a Christy finalist for The Restorer – a genre-blending adventure of a soccer-mom in an alternate world.
She holds an M.A. in communication, and worked for many years in arts ministry. In her various roles over the years as wife, mom, grandmother, church worker, choreographer, and writer, she has loved learning how God's grace pours into our lives in the midst of our weakness.
When she isn't wrestling with words, Sharon enjoys speaking to conferences, retreats, and church groups. She and her family make their home in the mid-western United States.
Connect with Sharon ~
Sharon's Novels ~
The Restorer | The Restorer's Son | The Restorer's Journey | The Deliverer
The Secret Life of Becky Miller | Renovating Becky Miller | Stepping Into Sunlight | Symphony of Secrets
---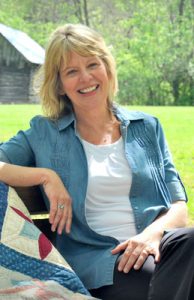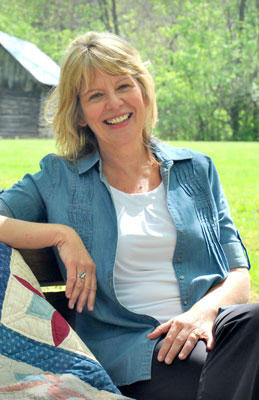 About Laura ~
Award-winning author Laura Frantz is passionate about all things historical, particularly the 18th-century, and writes her manuscripts in longhand first. Her stories often incorporate Scottish themes that reflect her family heritage. She is a direct descendant of George Hume, Wedderburn Castle, Berwickshire, Scotland, who was exiled to the American colonies for his role in the Jacobite Rebellion of 1715, settled in Virginia, and is credited with teaching George Washington surveying in the years 1748-1750. Frantz lives and writes in a log cabin in the heart of Kentucky.
According to Publishers Weekly, "Frantz has done her historical homework." With her signature attention to historical detail and emotional depth, she is represented by Janet Kobobel Grant, Literary Agent & Founder, Books & Such Literary Agency of Santa Rosa, California.
Readers can find Laura Frantz at www.laurafrantz.net
Connect with Laura ~
Website | Facebook | Twitter | Pinterest
Laura's Novels ~
The Mistress of Tall Acre | Love's Reckoning | Love's Fortune | Love's Awakening |
The Colonel's Lady | Courting Morrow Little | The Frontiersman's Daughter | A Moonbow Night
Question of the Day: If you had the opportunity to have lunch with any novelist, who would you choose?