Cover Reveal!
Check out this beautiful cover for Where Healing Starts, the second book in Angela D. Meyer's Applewood Hill Series!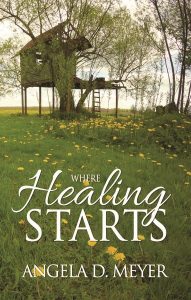 I had the privilege of reading Where Healing Starts for endorsement, and it's another winner from Angela D. Meyer. Like me, Angela writes stories about the gritty parts of life and doesn't shy away from showing characters' bad choices and actions. In other words, Angela reveals truth, but in doing so, that truth also helps shine a light on where healing actually starts. Check out the book's description:
Joanna, full of bitterness over the past, can no longer ignore the growing storm inside her and is bent on self-destruction as she seeks to ease her pain.  But the refuge she seeks is always out of her reach.

Her brother Blake must choose between what has always been safe and what he has always wanted. One mistake after another leads him down a dangerous path.

The one for all, all for one sibling bond can't help them now. They are both determined to hang onto their anger, never forgetting. Never forgiving. They see no reason to trust God.

After so many years of turmoil, will the Hannigan siblings find refuge in the God who loves them? Or will they get lost along the way?
Where Healing Starts is now available for pre-order here, and if you place a pre-order, Angela's publisher will send you a link to download the Kindle version of Where Hope Starts, book 1 in the Applewood Hill series, for free!