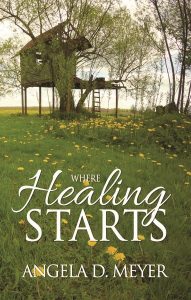 Winner of Where Healing Starts is
*** Donna B! ***
~ Where Healing Starts Book Giveaway ~
See entry rules below
I'm excited to welcome Joanna Hannigan, the heroine of WHERE HEALING STARTS, to my blog today. Where Healing Starts is the second book in Angela D. Meyer's Applewood Hill series, a  family drama that isn't afraid to deal with real-life topics. This book officially releases this Thursday, September 22, but if you pre-buy it now, you will get Where Hope Stars, book 1 in the Applewood series, FREE! (See link below)
Here's the back cover blurb to pique your interest:
Joanna, full of bitterness over the past, can no longer ignore the growing storm inside her and is bent on self-destruction as she seeks to ease her pain. But the refuge she seeks is always out of her reach.
Her brother Blake must choose between what has always been safe and what he has always wanted. One mistake after another leads him down a dangerous path.
The one for all, all for one sibling bond can't help them now. They are both determined to hang onto their anger, never forgetting. Never forgiving. They see no reason to trust God.
After so many years of turmoil, will the Hannigan siblings find refuge in the God who loves them? Or will they get lost along the way?
And now, let's meet Joanna ~
Joanna, how did you end up working at the after school care program, The Huddle?
 (Joanna shakes her head) You're really going there! I guess it comes out in the book anyway. Short version? I shoplifted and that was my hand slap. (She averts her eyes) I ended up getting attached to the kids. I actually connected to them better than I do with most adults. To be honest, that caught me off guard. Now, what's the next question?
Interesting. So, if people you meet could understand one thing about you, what would that be?
(She shrugs) Just because I act like I don't care…doesn't mean I don't. Stuff hurts.
You had a rough childhood. Was there a lot of bullying?
Yeah. And it started with our dad. He was always angry. We never could do anything to his satisfaction. And he never let us forget about it. And then the kids…I guess they saw how our dad treated us and figured they could get away with anything. I'm glad we had the treehouse, Blake and I. It was safe there. (Joanna smiles) I'm learning there is a better safe place. God's grace.
What was the turning point for you in accepting God's grace?
I had some unexpected encounters. People I didn't expect treated me different than everyone else. It's hard to explain how something impacts you without telling everything that lead up to you. For someone else, it might have just been an ordinary day. Suffice it to say you need to read the book. I promised no spoilers.
You've started making changes in your life. Where do you see yourself 5 years from now?
I just want to get to a year down the road. One day at a time. It's recovery. And I plan to make it. As far as what I would like to do with my life work or relationship wise? If you read the book, I think you'll get an idea.
What do you hope people will understand after they read your story?
God can redeem anyone from anything.
Before we go I have a fun question for you. If your story were turned into a movie, who would you want to play yourself?
Hmm…(Joanna laughs). Robin Wright. You know,  Forest Gump's girl. During her hippie phase. Yeah. That would do it. With a rougher edge on her, though.
---
About Angela ~
Angela D. Meyer, author of The Applewood Hill Series, lives in NE with her husband of 25 years and their high school daughter. Their son serves our country in the Marines. Angela enjoys hanging out with her family, reading, connecting with friends and encouraging women to grow in their faith. One of her dream spots to vacation is next to the ocean and someday she wants to ride in a hot air balloon.
Connect with Angela ~
Website | Facebook | Pinterest | Google+ | Twitter | Newsletter
Purchase Where Healing Starts ~
Click on the graphic below to pre-order your copy of Where Healing Starts, and receive a link to download the Kindle version of Where Hope Starts for free!
Check out this beautiful trailer created by John Martin Keith of Edenbrooke Productions ~
Help Angela get the word out about Where Healing Starts by joining her Thunderclap campaign ~
---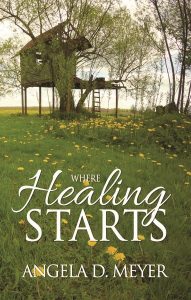 ~ Book Giveaway ~
Angela has graciously offered to give away one ebook copy of Where Healing Starts. To enter, in the comments below answer the question, "Growing up, did you have a treehouse? Tell us about it."
This contest ends Sunday, September 25, 2016 at 11:59 pm CST. I will post the winner on Monday, September 26, 2016. Winner will be chosen via Random.org.