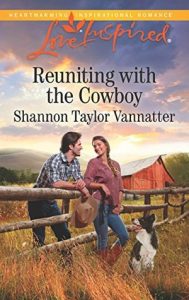 My good friend, and prolific romance writer, Shannon Taylor Vannatter has just released another book! In Reuniting with the Cowboy, Shannon continues with her popular cowboy theme, and no surprise, readers are gobbling it up. (And isn't the cover beautiful?!)
Here's the back cover blurb:
The Cowboy Next Door 
A charming cowboy moving in next door shouldn't be bad news. But veterinarian Ally Curtis knows Cody Warren—she'd never forget the boy who left her when she needed him most. Cody is doing everything he can to show his beautiful neighbor he's not the wild bull rider he once was, from helping her find homes for her beloved strays, to protecting her when her business is threatened. But Cody has a secret that keeps him from fully reaching out. Yet as they continue to work together to promote her shelter, he can't keep himself from hoping that Ally might have a home for him…in her heart.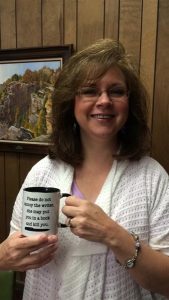 I'm pleased to have Shannon visit once again answering a few questions, along with offering a fun giveaway. See contest rules below.
Hi Shannon! So fun having you visit again! And congratulations on your new release! Could you tell my readers about your faith journey?
When I was young, we went to church sporadically. We'd moved from rural Arkansas where my parents attended a Methodist church with about 30 members to a suburb of Chicago, IL for my dad's job. The churches there were ginormous and they couldn't find one they really liked. But even though we didn't go often, my mom taught me about God and Jesus. When I was seven, we moved to Atlanta, GA for my dad's job. He used to be a carpenter and we followed the housing booms. I attended church with two friends – one Baptist and one Assembly of God.
When I was twelve, we moved back to Arkansas and went to the church my parents grew up in. By then, there were only twelve members including us and we only had Sunday morning service, but we were there every Sunday. Late in my teens, I went to a Baptist church with one friend and an Assembly of God with another. Eventually, I committed more to the Baptist one. I still attended with my parents on Sunday morning, but went to the Baptist church on Sunday and Wednesday nights. I don't know where I got the idea, but I thought if I attended church and was a good person, I'd go to heaven.
When I started dating my future husband, he and my Assembly of God friend started talking about getting saved. I had no clue what that was until my husband explained that I had to put my faith and trust in Jesus and ask him to be my savior. This was totally crazy, because at the time, my husband was a pot head – I just didn't know it yet. But he'd been raised in church, his dad was a pastor, and he'd been saved at nine years old. He just went wild after his parents ended up divorcing. While we dated, he went to church with me. But after a while, I figured out that all the rumors I heard about him were true. We broke up.
I kept going to the Baptist church with my friend for evening services and my Assembly friend kept witnessing to me. Finally, I committed my life to Christ in my bedroom. A few months later, my future husband told me he was quitting all his meanness and I could tell he was different. He started going to church with me again and he recommitted to Jesus. Our relationship completely changed for the better and we dated the rest of high school. A year after we graduated, we got married.
About fourteen years later, he dipped his toe into ministry and became a youth director at my parent's church which had grown to a hundred people. We had about thirty unchurched, unruly teens. It was difficult for me. While Grant was just glad they were coming to church, I'd get frustrated because I could tell they were only coming to get out of the house and they took advantage of his generosity with them. Out of those thirty – only one is in church that we know of, and one is in prison for murder.
Three years later, Grant answered the call to preach. Though I felt completely unqualified and slightly overwhelmed at the sudden preacher's wife title, I adjusted. I'm a much better, more patient pastor's wife than I was a youth director's wife. He's been pastoring our current church for ten years and I'm there every time the doors are open, unless our son is sick or I'm REALLY sick.
Do you see yourself in any of your characters?
I put a bit of myself in all of my heroines. The heroine in my first published book,  Adrea, was falling for a preacher and feeling like she couldn't measure up to his deceased wife. I was dealing with my husband answering the call to preach and feeling inadequate.
Even with the bad girls I've written, there's always something about them that reflects me. Shell, Kendra, Natalie, and Tori were all promiscuous – unlike me. But Shell loved her son and tried to do what was best for him. Kendra was falling for a youth pastor. Natalie loved her family as much as I love mine.  Tori, my clothing designer loved dressing up as much as I do.
Another heroine, Raquel had a son who played baseball. My son used to play baseball and when I wrote that book, he had decided he didn't want to play anymore. I love baseball and had a hard time letting go, especially since he was really good at it. So sometimes, my heroines reflect what's going in my life and help me deal with changes.
My current heroine, Ally loves animals and is a vet. I considered being a vet once but decided I couldn't do it because I didn't want to anesthetize pets. Ally is more tomboyish and doesn't mind getting dirty, which is so not me. I'm an avid primper.
When you're not writing, what do you enjoy doing?
I've always loved crafting and making things. About four years ago, my husband went from bi-vocational pastor to full time. He suddenly had time on his hands and discovered he likes crafting too. This year, we finally rented a flea market booth. We redo furniture, repurpose unused items, and pretty or rustic stuff up. Our booth is an eclectic mixture of cowhide, burlap, and seashells. I'm in charge of pretty and fabric. He's in charge of rustic and paint.
I had two old glass lamps – the kind you fill with things. I filled them with burlap, seashells, and seaglass then covered the shades with burlap, and painted a sailboat on one shade, and an anchor on the other. Recently he found the wooden part from an old oxen yoke and turned it into a lighting fixture.
Doing crafty things relaxes us. It rests my mind from writing and takes his off church. Plus we enjoy crafting together. We spend a lot of time shopping flea markets for finds to flip. Our son, fourteen, has come to detest them. We tease him that we're going to open a flea market of our own and put it in the will that he has to run it and can never sell the business.
---
About Shannon ~
Shannon Taylor Vannatter is a stay-at-home mom/pastor's wife/award winning author. She once climbed a mountain wearing gold wedge-heeled sandals which became known as her hiking boots. Shannon writes inspirational contemporary romance and it took her nine years to get published in the traditional market.
Shannon hopes to entertain Christian women and plant seeds in the non-believer's heart as her characters struggle with real-life issues. Their journeys, from ordinary lives to extraordinary romance through Christ-centered relationships, demonstrate that love doesn't conquer all—Jesus does. In her spare time, she loves hanging out with her family, flea marketing, and doing craft projects.
Get in touch with Shannon ~
Website | Blog | Facebook | Goodreads | Pinterest | Twitter
Purchase links ~
Amazon | Christianbook | BarnesandNoble
Giveaway Details ~
Giveaway details: Comment to enter the drawing for a copy of Reuniting with the Cowboy. Ten copies will be split among names drawn during the blog tour from Sept 1 – 27. One winner will receive a Noah's Ark themed memory board personally crafted by the author. This fabric is special since it was in the Vannatter nursery 14 years ago and goes along with the float the characters in the book build for a parade. Great for a shower gift or displaying kids or grandkids. Winners will be revealed on the author's blog on Oct 8th. Sign up to enter more giveaways: https://shannonvannatter.com/sign-up-for-shannons-newsletter/
Follow the tour: