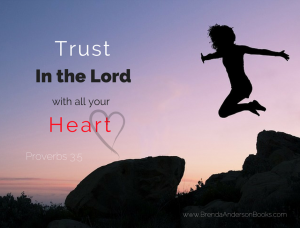 In RISKING LOVE, my heroine, Lissa Morgan, is a very play-it-safe, super-organized person who has trouble surrendering control to God. (This may or may not be somewhat biographical. 😉 Just sayin' …) Chances are you know someone like this, or have those control tendencies yourself. Let's face it, it's not easy releasing control on many aspects of our lives, as if we can command the outcome. As if we can do it any better than God. That's a huge part of Lissa's struggle: knowing God can handle her life better, yet letting fear rule which make her cling to her own ways.
It's really an issue of trust. Do we really trust that God has the best plans for us? Do we really trust that He's got our best interests at heart? Do we trust that ultimately, He's in control? The mind might say 'yes', but the heart? That's more difficult to convince. At times it's much easier to let fear of the unknown control us, rather than taking that leap of faith from which there's no turning back. Yet, letting go, making that leap, is exactly what we need to do.
Trust in the Lord with all your heart, and do not lean on your own understanding. In all your ways acknowledge him, and he will make straight your paths.  Proverbs 3:5-6
I love this song, "I'm Letting Go"  by Francesca Battistelli. The words fit Lissa (and myself) perfectly.
About Risking Love ~
Bank employee Lissa Morgan likes all the columns of her life to add up. From her job to romance, every major decision is planned out. But before she can go out on a date with Mr. Perfect, she attends a charity auction with her meddling mom who wins Lissa a date with thrill-seeker Caleb Johnson.
Caleb lived for adventure until heart disease stole his wife's life. Then debt closed his business and now threatens to take his home. With a toddler to raise, he vows that his risk-taking days are over. But then he meets the cautious yet curious Lissa Morgan and decides it's time to take one more risk—this time on love.
When Lissa learns the extent of Caleb's debt, she wonders if she can collect on his heart if she forecloses on his home. And why is she falling for the wrong man—one who challenges her to leap from her orderly life and into his waiting arms?
Purchase Risking Love ~