The winner of an ebook copy of FORGOTTEN is …
*** Linda Rainey ***
---
*** Book Giveaway ***
See Contest Details Below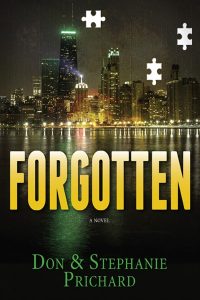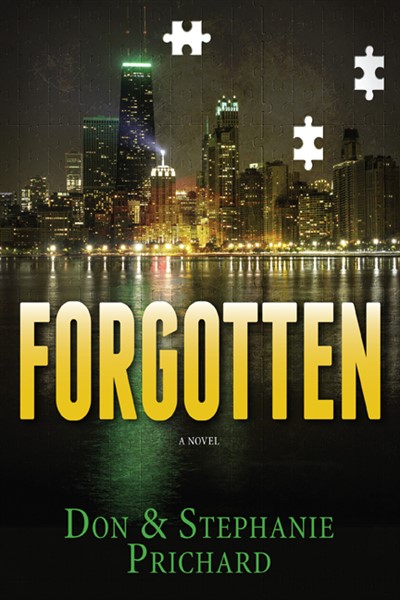 The long-awaited follow-up to Don and Stephanie Prichard's wildly successful Stranded is now available! Forgotten picks up where Stranded left off, with the same characters you grew to love, this time in a completely different setting. And the adventures they go on are just as page-turning! Today Steph, Forgotten's co-author, is talking with Eve, the heroine from Stranded and Forgotten, who finds herself in a rather uncomfortable situation. I'll let Steph–my friend, grammar queen, and amazing critique partner!–take over from here …
Steph (masquerading as hospital staff, poking head into patient's room): Hi. Just checking to see if you have everything you need to leave the hospital today.
Eve: Nerves of steel would be nice.
Steph: Mmmmm. I understand your brain surgery left you with a degree of memory loss. Can you tell me about it? (Presumptuously takes a seat in a chair across from Eve.)
Eve: Not much to tell, except the memory loss is severe. It's as if I was born with a thirty-four-year-old body into a life I don't remember. I'm in this … this invisible bubble that cuts me off from everyone. I have no past and therefore no identity. Nothing as a reference to help moor me to the future, either. I exist only in this moment of time, and I don't know what to do with it. How to deal with it …
Steph: Oh my, that would be hard! I'm sorry. But you do have friends and family surrounding you, right? They would be a source of comfort.
Eve: Not when they know things about me I don't know. It's like being in a game of King of the Mountain, and they're at the top, with all the weapons.
Steph: Oh. Well, um, you're going home with your brother today. He should be a safe harbor anyway.
Eve: No. I feel like Pearl Harbor hearing the roar of airplanes in the distance.
Steph: Really? Why?
Eve: My dad told me something bad happened between my brother and his friend and me, but Dad refuses to tell me what. Every time I ask him about it, he falls apart and can hardly talk.
Steph (now wanting to be a fly on the wall when Eve's brother arrives): Oh, that would be unnerving. But, er, you know how parents are, making mountains out of molehills.
Eve: He said I was upset enough that I refused to see him and my brother or speak to them once I left home for college.
Steph (counting with the help of fingers and toes): Oh wow, sixteen years. That's what I call mad, all right! (Silence for several seconds …) Maybe this will be an opportunity to get it all straightened out and make a new start.
Eve: I hope so. Dad is clearly sorry. I'll get my brother to tell me what happened.
Steph: Sounds perfect. I hope all goes well for you and this gets you off to a good start. (Reluctantly leaves the room.)
Eve (sighing): Thanks.
Steph (walking down the hallway and encountering the hospital chaplain accompanied by a tall, skinny man in his mid- to late-thirties with blond hair reaching past his shoulders, a yellow T-shirt, and blue jeans ragged against the heels of dirty tennis shoes): Mornin', Chaplain.
Chaplain: Good morning.
Steph (pausing as the chaplain and man enter Eve's room, and the man says, "Hey, little sis.") That must be…
A scream reverberates down the hall. "Get him out of here! Get him out!
Intrigued? Yeah, I knew you would be! So hurry over to Amazon to pick up your copy of Forgotten, right now!
It's frightening to lose your memory. Even scarier is to forget what's at stake.
Federal prosecutor Eve Eriksson disappears under mysterious circumstances and shows up a year later in a coma. What happened, and where has she been? She can't remember, and her life is in jeopardy. Four people are hunting her down. Three claim to have been stranded on an island with her. The fourth is her old nemesis, Chicago drug lord Danny Romero, who still wants her dead.
Jake Chalmers is shocked to discover his fiancé is a federal prosecutor. Why did she hide this from him on the island, and who is going to such great lengths to prevent their reunion? If she doesn't regain her memory, he'll be thrown into prison for murder.
About Stephanie Prichard ~
Stephanie co-authors with her husband, Don, a Viet Nam veteran who served in the Marine Corps Reserves for thirty-two years before retiring as a colonel. He is also a career architect, whose specialty in government work includes the design of prisons, courthouses, and military facilities. Stephanie is an army brat who lived in many countries around the world and loved it. She learned to speak four foreign languages—but forgot all of them, alas, with lack of use. She met her husband at Drake University in Des Moines, Iowa, where she majored in English/Literature. She and Don live in Indianapolis, IN, and in retirement enjoy writing novels together.
Connect with the Prichards ~
Website | Pinterest | Facebook
Purchase links ~
Giveaway Details ~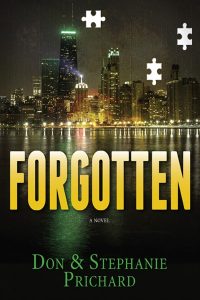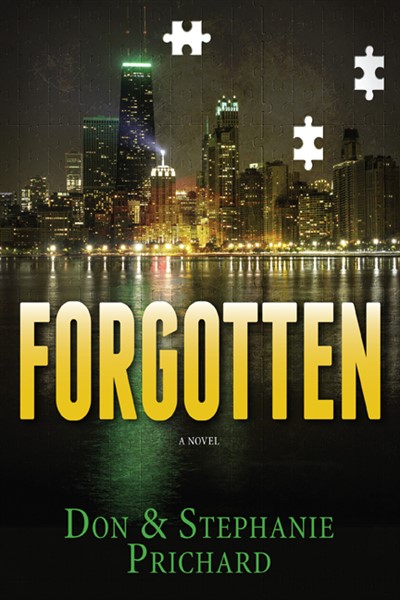 Stephanie has graciously offered to give away one ebook copy of  Forgotten. To enter, answer the following question in the comment section below:
What would be the hardest part for you about losing your memory?
Contest ends Monday, December 19, 2016 at midnight. Winner will be posted on Tuesday, December 20, 2016.