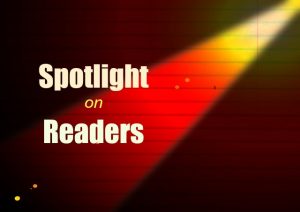 Welcome back to the Reader Spotlight! This week I'm applauding Ann Ellison who has been a book cheerleader for more authors than I can name! Thank You, Ann, for all you've done to support authors!
Ann's Favorite Things ~
Type of Book:  WWII Historical fiction, Christian romance and suspense and Amish fiction
Book: One that had really left an impression with me was For Such a Time by Kate Breslin – It is the story of Esther set in Nazi Germany
Author: Too many to list
Movie: My Fair Lady
Entrée: Fried shrimp
Dessert: Chocolate cream pie
Chocolate: Anything chocolate works
Restaurant: Towne Crier – a local restaurant
Beverage: Iced tea, coffee with Thin Mint Creamer, and peppermint hot tea
Season: Spring
Animal: Cats – I have two
Type of Music: Christian – gospel and contemporary
Song: "How Great Thou Art"
Musician: Chris Tomlin
Bible Verse: John 14:27 "Peace I leave with you, my peace I give unto you: not as the world giveth, give I unto you. Let not your heart be troubled, neither let it be afraid.
Color: Blue
Item to Collect: Magnets  and Santa Clauses
Hobby: Reading
Flower: Roses
Holiday: Thanksgiving
Vacation Location: Toss up between Portland, Oregon and New York
About Ann ~ I am semi-retired and work in my church office part time.  It is the church I grew up in and the first job I had in high school was helping in the church office so I have come full circle.  I am also assistant pianist for our church.