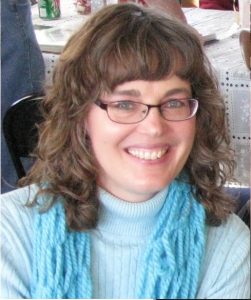 Today I'm applauding reader and aspiring author, Michelle Kaderly Welsh! I had the pleasure of *meeting* Michelle back when Chain of Mercy debuted, and she's been a book booster ever since then. Thank you, Michelle, for all you've done to support authors!!!
About Michelle ~
Michelle Kaderly Welsh is a busy home schooling mom of five by day and an aspiring author by night. She is a former newspaper assistant editor, columnist, and correspondent, and marketing coordinator.  You may learn more about her at www.michellekaderlywelsh.com or follow her on Twitter.
Michelle's Favorite Things
Type of Book
This is a hard one to pin point as I love a variety of fiction including MG, YA, women's, and historical.
Book
It is hard for me to pick a favorite. Among those that stand out are Janette Oke and T. Davis Bunn's Song of Acadia Series, Lynn Austin's Refiner's Fire Series, Karen Kingsbury's The Chance and Unlocked (two that I recently read), Connilyn Cossette's Counted with the Stars, Cathy Gohlke's Saving Amelie and Secrets She Kept, and several of Elizabeth George Speare's novels. I love Burton Cole's Bash Series and really enjoyed Amy Clipston's YA, Roadside Assistance and Destination Unknown. Any book that makes me forget the present and immerses me into the fictional world that makes me laugh and cry is one that I love. I have a list of ACFW authors' books and recommendations from people's blogs, including Brenda's, that I want to read because they sound interesting. My list will likely include some of those someday. I, of course, also enjoy Brenda's books.
Movie
Oh, I don't know how to pick just one favorite. Among my favorites are A Walk in the Clouds, Ultimate Gift, Ever After, Letters to Juliet, Evan Almighty. . .
Entrée
I love my sister's chicken roll ups. Yum.  I'm also a big fan of meatloaf! LOL I like to cook at home. 🙂 I'm always trying new recipes.
Dessert
Vanilla ice cream with fudge topping is my most favorite dessert.
Chocolate
I dearly love most chocolate. I sometimes like to get Hershey's Chocolate Kisses just so I can have a sweet.
Restaurant
I enjoy Mexican and Italian restaurants.
Beverage
I love chocolate milk. Surprise! LOL The beverage I drink the most of, however, is water. Burton Cole's Bash and the Chocolate Milk Cows was a fun read since it incorporates my favorite beverage. 🙂 When I was in college, we played the Roommate Game, sort of like the Newlywed Game. My roommate was very tense when the question came up about my favorite drink. She said she hoped I wouldn't let her down on this. Everyone else was declaring some alcoholic beverage as their favorite, but my roommate knew that chocolate milk was the answer. Luckily, I was honest so we got those points. We knew each other well. LOL
Season
I enjoy spring the most because I love the scent of blossoming flowers and trees in the air.
Animal
My favorite animal is the cat. I have always loved kitties. 🙂
Type of Music
Contemporary Christian music pleases me.
Song
"Amazing Grace" is the song that must have that honor. I'd sing it to get my babies to sleep. No matter how often I hear it or sing it, I get emotional over it.
Musician
Just like authors, I have many musicians I enjoy. I generally listen to whoever is playing on my local Christian radio station.
Bible Verse
Philippians 4:13, "I can do everything through him who gives me strength."
Color
Pink and violet are my favorite colors.
Item to Collect
Books are what I collect. 🙂
Hobby
Reading, crocheting, knitting, and walking are ways I relax.
Flower
I love lilacs, and phlox run a close second. I think phlox last longer.
Holiday
Since Easter celebrates that Jesus is alive, I'd have to say Easter. It's also in the spring, and hopefully, the weather is warm and sunny again after a long Wisconsin winter.
Vacation Location
My family and I have visited different states which all have provided us with fond memories and beautiful scenery. I'd have to say that wherever my family and I can go to spend time with each other is where I want to be because my favorite spot is with my favorite people.
Television Series
We don't watch a lot of television at my house because we're usually reading—LOL—but we have enjoyed watching Downton Abbey, Heartland, and Dr. Quinn Medicine Woman—to go back a few years. 🙂