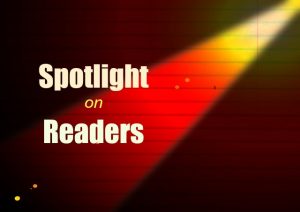 Today we applaud avid reader and author supporter, Wendy Huddler! Thank you, Wendy, for all you've done to encourage authors!!!
Wendy's Favorite Things
Type of Book – I enjoy a mystery with a touch of romance that is in present time.
Book – I would have to say the Bible is my absolutely favorite book.
Author – For years Karen Kingsbury was my favorite.  But now I am finding so many new ones.
Movie –  Dirty Dancing has been my favorite for years.  There are several scenes I do not really appreciate but I love the dancing.
Entrée – Steak, always steak.  Rare
Dessert – I would have to say a big dish of chocolate marshmallow ice cream.  Hard to find.
Chocolate – Lindt balls are wonderful!
Restaurant – The Catfish Place in St. Cloud, FL
Beverage – I love a good iced coffee.
Season – Winter would be my favorite season because we are snowbirds and I spend my winter in Florida
Animal –  Cats are my animal of choice.
Type of Music – Southern Gospel
Song – Shouting Time by the Hoppers
Musician – Was Anthony Berger
Bible Verse – Isaiah  40:31 – "But they that wait upon the Lord shall renew their strength; they shall mount up with wings as eagles; they shall run, and not be weary; and they shall walk, and not faint."
Color – Blue
Item to Collect – I collect yarn and fabric for my hobby
Hobby – Sewing, Crocheting and knitting
Flower – daisy
Holiday – Christmas
Vacation Location – Orlando FL
Add your own – Also love traveling.