2016 Favorite Reads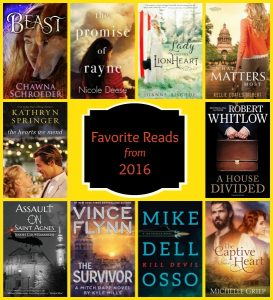 I'm always surprised when I look at my Goodreads bookshelf for a year and see such a variety of favorites, especially when I prefer contemporary drama. Goes to show that a good book transcends genre. Not all the books listed below were published in 2016, but as that's when I read them, they make my list.
In order of date read, here are my favorite reads from 2016:
The Hearts We Mend by Kathryn Springer
Evie's first meeting with Jack had not gone well. The second didn't seem to be going much better. They were from two different worlds. But now…like it or not…they were sharing the same world. Was this church big enough for the two of them? Or was that close-knit space just what was needed for hearts to mend?
A House Divided by Robert Whitlow (released in 2015, read in 2016)
As head of a small Georgia law practice, Corbin Gage is slowly drinking himself into the grave—but his adult children, also lawyers, are excelling. When Corbin agrees to represent three boys who've contracted non-Hodgkin's lymphoma due to a chemical spill, everybody's reputation is at stake. The whole family rallies—but is it a hopeless cause?
Assault on Saint Agnes by Joseph Courtemanche
When terrorists assault Saint Agnes Church in Saint Paul, Minnesota, they expect to find a congregation of lambs: they get Bobby Kurtz instead. An unrepentant Cold Warrior, Kurtz destroys the terror cell with violent finality. Against his will, Kurtz is pulled back into the life he left behind decades before. He reluctantly picks up the burden of hunting the terrorists in our midst. He risks his life, and his marriage, in a single-minded pursuit of victory over evil. Working with a shadowy government agency, Kurtz uses all of his skills and experience to foil a plan that would plunge the Twin Cities back into the Stone Age. The final battle rages across the plains during a Christmas Eve blizzard in a story that will leave the reader pleading for more of Kurtz and his team of experts.
Kill Devil by Mike Dellosso
Jed Patrick and his family got new identities and relocated.  Just when he thinks they are safe, his wife and daughter are threatened by trained men of an agency.  Should he keep his family at his side to keep them safe?  Should he eliminate the Centralia Project?
What Matters Most by Kellie Coates Gilbert
In order to take care of her sick mother, Leta Breckenridge lands a high paying job at a public relations firm. She learns that the research she has been collecting will be used againsst Nathan Emerson her new love interest. Nathan feels she holds the key to his heart. How can she tell him the truth?
Beast by Chawna Schroeder
I am Beast. I serve the master.
For as long as Beast can remember, she has lived among her master's dogs. With them she sleeps. With them she eats. With them she fights and struggles to survive. But through hunger and cold she dreams of one day becoming her master's favorite, earning bones with meat and a place beside the fire.
When her pack scatters after a surprise raid, Beast must defend herself against slavers, hunting down the loners.
They are so strong, and she is only a beast . . . or is she?
For anyone who has found a monster within, Beast is a tale of truth and transformation.
The Survivor by Vince Flynn & Kyle Mills (released in 2015, read in 2016)
When Joe "Rick" Rickman, a former golden boy of the CIA, steals a massive amount of the Agency's most classified documents in an elaborately masterminded betrayal of his country, CIA director Irene Kennedy has no choice but to send her most dangerous weapon after him: elite covert operative Mitch Rapp.
Rapp quickly dispatches the traitor, but Rickman proves to be a deadly threat to America even from beyond the grave. Eliminating Rickman didn't solve all of the CIA's problems—in fact, mysterious tip-offs are appearing all over the world, linking to the potentially devastating data that Rickman managed to store somewhere only he knew.
It's a deadly race to the finish as both the Pakistanis and the Americans search desperately for Rickman's accomplices, and for the confidential documents they are slowly leaking to the world. To save his country from being held hostage to a country set on becoming the world's newest nuclear superpower, Mitch Rapp must outrun, outthink, and outgun his deadliest enemies yet.
The Lady and the Lionheart by Joanne Bischof
Raised amid the fame and mystique of the Big Top, Charlie Lionheart holds the audience in the palm of his hand. But while his act captivates thousands, it's away from the spotlight where his true heart lies. Here he humbly cares for his pride of lions as if they were his brothers, a skill of bravery and strength that has prepared him for his most challenging feat yet–freeing an orphaned infant from the dark bondage of a sideshow. A trade so costly, it requires his life in exchange for hers, leaving him tarnished by the price of that choice. As the circus tents are raised on the outskirts of Roanoke, nurse Ella Beckley arrives to tend to this Gypsy girl. All under the watchful eye of a guardian who not only bears a striking resemblance to the child, but who protects the baby with a love that wraps around Ella's own tragic past, awakening a hope that goodness may yet reign. When their forbidden friendship deepens, Charlie dares to ask for her heart, bringing her behind the curtain of his secret world to reveal the sacrifice that gave hope to one little girl–boldly showing Ella that while her tattered faith is deeply scarred, the only marks that need be permanent are his own.
The Captive Heart by Michelle Griep
Escaping a cruel employer, English governess Eleanor Morgan must settle for the only reputable option available to her in the colonies—marriage to a stranger. Meanwhile, woodsman Samuel Heath is a hardened survivor who's determined to find a mother for his daughter. But no upstanding woman wants to marry a murderer. Will Eleanor be the exception?
The Promise of Rayne by Nicole Deese
Rayne Shelby's family owns Shelby Lodge, a forty three room redwood estate that looks like an illustration out of a fairy tale book. It is surrounded by the Rocky Mountains in Idaho. She would like to manage the lodge. When she makes a mistake that puts her future at risk, she asked her neighbor Levi Harding for help. He is the apprentice of the man that owns Winslow's Orchard and Farm. The two families have been feuding for years. Wild fires threaten their town and livelihood. Can these two work together to end the feud before they lose everything?
What are your Favorite Reads from 2016?