Writing Retreats Rock!
I had the immense pleasure of being in Branson, Missouri last week for a wonderfully motivating writing retreat.  And the best part was having the fellowship of four authors–Stacy Monson, Dawn Ford, Mari Keisling, and Sarah Anderson–whom I blessed to call friends (including my daughter!)
On Sunday, March 5, we arrived at The Cliffs at Long Creek in Branson, Missouri. We stayed in a gorgeous twinhome with a balcony overlooking Table Rock Lake.  The home has five bedrooms, so each of us had separate spaces, plus two living room areas and a well-appointed kitchen. The home also came with a pool table and a movie theater room complete with a 92-inch screen. Needless to say, it was very easy to make ourselves at home here. Which we did.
Each night a different attendee was responsible for a meal of their choice, so we had a variety of delicious entrees. And that was the only scheduled time Monday – Friday, although we did usually meet up around breakfast time for fellowship and encouragement for the day.
A couple evenings, a little masked friend wanted to come visit us.  If you look hard, you can seem him in this pic.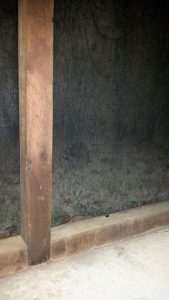 The main purpose of the retreat, though, was to focus on writing, which we all did for most of our waking time. Some of us edited, some wrote new words, other plotted. For the first time in months, I felt like I made forward progress on my work-in-process, and I feel motivated to move forward. Yay!
Of course, no retreat is complete without a bit of downtime. Most of us took time out to enjoy the weather and walk the very hilly resort streets. They really got our hearts pumping! Some of us checked out the just-opened infinity pool on the one 80-degree day. The water was cool, but we were all from Minnesota or Iowa, so we could handle the cold. 🙂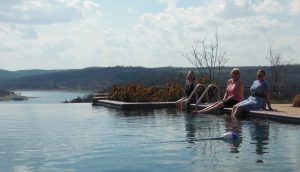 The evening following our dip in the pool, severe thunderstorms rolled through the area, accompanied with tornado warnings (we may or may not have seen a funnel cloud in the distance. In the dark, it was difficult to tell.) I've never seen or heard hail like we had that night, and it piled up like snowdrifts outside our home. Two days later, not to be outdone by the hail, actual snow came down burying the ground with four-plus inches of wet, heavy, snowball snow. Gotta love Jekyll and Hyde weather!
On Friday we took an afternoon break to tour Branson and to make the short drive into Arkansas so we could all say we've been to that lovely state. "Hello" to the trucker who blasted his horn as we were taking the pic, making us leap out of our shoes!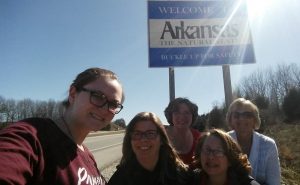 To cap off the week, and to celebrate our progress, we took in the production of Moses at the Sight & Sound Theater. WoW! is the best way to describe it. The show deserves a post of its own, so stop in on Thursday to read about Moses (go here). Following the show, we  gave our kitchen a rest and dined at Florintina's. Fabulous food and fun ambiance.
And then it was time for the long drive home. Four of us piled into one vehicle to head back to the Minneapolis area, and Dawn headed for home near Council Bluffs, Iowa.  While Dawn arrived home without incident, we ran into snow midway through Iowa and it snowed all the way to Minneapolis, turning a 12-hour car ride into a 14-1/2 hour, exhausting ride, but we made it home safely. We couldn't end the week without a little drama, right?
The retreat was such a success, we're already making plans for next year.  I can't wait!
Writing retreats rock! Have you ever attended a work-related retreat?