Book Boosters Wanted!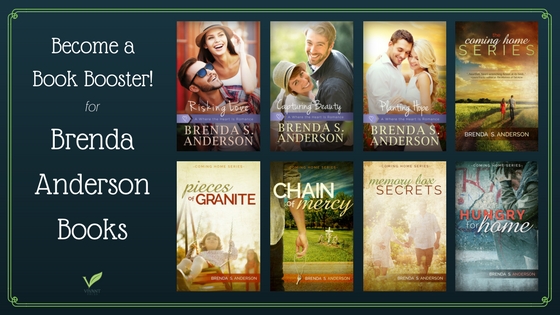 Contrary to popular belief, I have not fallen from the face of the earth. These last several months I have been crazy-busy finishing my upcoming release, PLANTING HOPE, along with making certain the cover is perfect. (Once again, George at Think-Cap Design nailed it! A full cover reveal is coming next Wednesday, so stay-tuned…) That, along with life-in-general, have kept me away from the blog and social media.
But now the book and cover are finished (Yay!), so I'm looking for a few additional Book Boosters to add to my team. The top requirement is that you love reading books and love talking them up to other people. 🙂
So, what exactly does being a Book Booster mean?
You get an Advance Reader ebook prior to the release of Planting Hope
You'll receive free bookmarks and/or promotional items (sorry, United States residents only – shipping costs, even to Canada, are exorbitant!)
Contests among members-only to win paperback books and other prizes
You're always the first to know about upcoming plans and you get to see covers before anyone else!
And what do you have to do as a Booster? Here are a few requirements:
Subscribe to my blog: click >here<
Sign up for my e-newsletter >here<.
Like Brenda S Anderson Author on Facebook:
https://www.facebook.com/BrendaSAndersonAuthor
Talk about the book! Tell your Facebook and Twitter followers. Post pics on Instagram and Pinterest. Talk it up to your best friends and neighbors and fellow churchgoers and co-workers and the person you pass on the street and … well, you get the idea!
And a few recommendations:
Ready to sign up?
Your first step is to fill out the Book Booster Application below. You'll receive a response within 48 hours.
Thank you! I look forward to having you on my team!
Note: Membership to this team is at my discretion. If you are accepted and do not remain an active participant, you may be removed from the group. Thank you for your understanding!