BLOG TOUR GIVEAWAY
See Contest Rules Below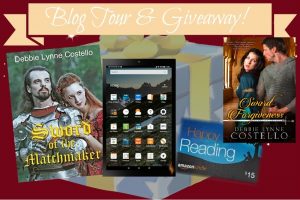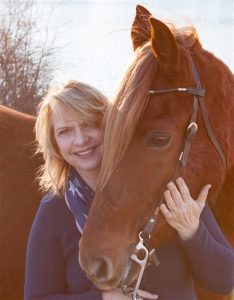 I'm pleased to welcome author Debbie Lynne Costello to my blog today. She recently released Sword of the Matchmaker (Winds of Change Novella), a medieval era novella, a perfect read for a summer day.
Here's the blurb to further pique your interest:
Penelope Beatty made up her mind long ago she would live and die a Scottish warrior not a wife. But when nearly all her clan is killed and she is betrayed, she loathes doing the unthinkable, but must seek the help of an Englishman who owed her father his life.
Thomas Godfrey never married, but when a Scottish warrior lass shows up needing his aid, he finds her both annoying and irresistible. But the last thing he wants is to marry a woman who fights alongside him. If he was going to marry—which he isn't—it would be to a soft, submissive woman. But when the Lady Brithwin meets the Scottish lass, she's sure she's found the perfect match for Thomas and nothing is going to stop her from seeing a summer wedding.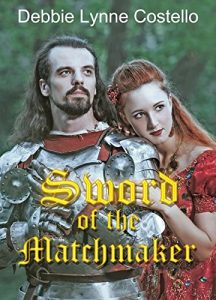 Purchase Sword of the Matchmaker here: Amazon
And now, please welcome Debbie Lynne! Thank you for stopping by my blog today and answering a few questions. 🙂 When you're not writing, what do you enjoy doing?
I absolutely love going horseback riding with my husband. We live in South Carolina and ride at  Kings Mountain State park that has about 30 miles of trails full of hills, woods, and creeks. We also enjoy riding at Woods Ferry National Park which has a breathtaking river we can ride along as well as take the horses through the water and onto a sand bar. It's so relaxing to get on our horses and just ride out, enjoying all the beauty God created. I enjoy taking the grandkids out to ride on my Trigger as well as jump on our miniature donkey, Winchester.
Joe and I also enjoy do it yourself projects. Right now we are in the beginning stages of building our new house—a house on our farm with our horses. It's a lot of work but so satisfying to see everything come together.
When it is just me, I enjoy studying Creole in hopes to be able to understand and speak a little when we go back to Haiti, and I enjoy spending time with sweet friends!
What keeps you writing during the difficult times?
That is something I am very familiar with since my husband just went through a clinical trial for MCL cancer, my mother went through lung cancer, and my father took a fall that put him in a coma. My husband and my journey included 5 months of living in Texas. At periods it was hard finding the time to write, and sometimes the creativity seemed to be dry, but God is faithful and always came through for me during those hard days. I also have to say that writing is an escape. It's something that I can control the outcome. It's fun to slip away where everything is going the way I want it to. ;o)
What are you working on right now?
Right now I am working on Sword of Trust, the sequel to Sword of Forgiveness. Sword of Trust is a medieval set in Cumberland, England in 1399 and is about half finished right now. It's book two in the Winds of Change Series. Sword of the Matchmaker is a novella in the series, also. It's been fun revisiting so many of the same characters in SOF. Sword of Trust will be introducing you to a couple of new characters which I am really enjoying writing about. Each of the books are stand alones but if you like to keep up a bit with characters in previous books of the series then you will enjoy The Winds of Change. I'm in the middle of my blog tour right now but as soon as the tour is over I am looking forward to diving back in and getting my WIP finished.
About Sword of Forgiveness (Winds of Change, book #1)
After the death of her cruel father, Brithwin is determined never again to live under the harsh rule of any man. Independent and resourceful, she longs to be left alone to manage her father's estate. But she soon discovers a woman has few choices when the king decrees she is to marry Royce, the Lord of Rosencraig. As if the unwelcome marriage isn't enough, her new husband accuses her of murdering his family, and she is faced with a challenge of either proving her innocence or facing possible execution.
Royce of Hawkwood returns home after setting down a rebellion to find his family brutally murdered. When all fingers point to his betrothed and attempts are made on his life, Royce must wade through murky waters to uncover the truth. Yet Brithwin's wise and kind nature begin to break down the walls of his heart, and he soon finds himself in a race to discover who is behind the evil plot before Brithwin is the next victim.
Purchase Sword of Forgiveness ~
About Debbie Lynne Costello ~
Debbie Lynne Costello has enjoyed writing stories since she was eight years old. She raised her family and then embarked on her own career of writing the stories that had been begging to be told. She and her husband have four children and live in upstate South Carolina. She has worked in many capacities in her church and is currently the Children's Director. Debbie Lynne has shown and raised Shetland Sheepdogs for eighteen years and still enjoys litters now and then. In their spare time, she and her husband take pleasure in camping and riding their Arabian and Tennessee Walking horses.
Connect with Debbie Lynne Costello ~
Website | Blog | Heroes, Heroines, & History | Facebook | Twitter | Pinterest | Goodreads | Google + | Amazon
Giveaway Details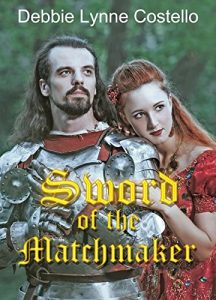 On top of the Rafflecopter giveaway below, Debbie Lynne is giving away a copy of Sword of the Matchmaker (if you have purchased the book you can choose one of my other books) if we have 10 different commenters. Leave a comment below or ask me a question to be entered. (Contest ends Sunday, June 25, 2017.)
PLUS
Don't forget to enter in the Rafflecopter giveaway, too! There will be lots of ways to earn points. Debbie is giving away a Kindle Fire with Sword of the Matchmaker, a $15 Amazon gift card, and much more!