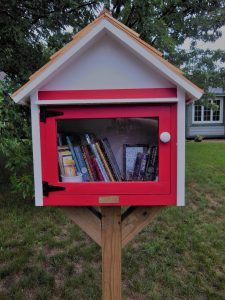 My Little Free Library!
For years I've been wanting a Little Free Library (https://littlefreelibrary.org/)  for my front lawn, and this past Christmas my family gifted me this adorable house! I couldn't wait to get it out by the road! For me, there isn't a better way to get to know neighbors than chatting about books.
But before setting up, it needed to be painted. That meant waiting through winter so I could paint it in the garage.
Spring came, and it didn't get painted.
Then, what seemed like two days later, summer arrived. And it didn't get painted. With writing and editing Planting Hope, I couldn't spare a few days.
Until last week…
With my book off to my editor, I ignored the household chores that have been calling me for too long (they can wait a bit longer, right?) and set about to paint my library. Between painting the inside and outside with three-plus coats, it took three days to complete. The minute it was done, my husband retrieved the post-hole digger from his dad and dug a two-foot hole.
And then the rain came, soaking the top of the just-set pole, so once again we had to delay erecting the library until the pole was dry.
Finally, last night, after my husband and I went out for an anniversary supper, my husband attached the house.
This morning, we filled the library, and it's finally open to the neighbors! I can't wait to see books come and go! I can't wait to see smiling children's faces as they search through the selection. My house isn't an official Little Free Library yet as I'm waiting for my registration packet to arrive along with a white aluminum charter sign. 🙂 But it won't be long!
My next task is to repurpose an old head- and foot-board into a bench we'll set next to our Little Lawn-Library.
Maybe next year…
---
PLANTING HOPE, a Where the Heart Is romance #3, now available for pre-order at Amazon.