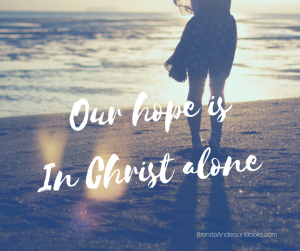 Where do you place your hope?
Be honest now.
Think about where you are right now. What you're doing. Do you place your hope in your job? Your marriage? Children? Friends? The weather? For me, too often my hope is placed in having a good day of sales, or receiving a positive review.
No doubt, those things lift our spirits, but they are all fleeting. Even our closest family and friends will disappoint us at times.
But Christ will never let us down.
In Planting Hope, my characters struggle with where they're placing their hope. He longs for approval from his father. She wants her parents to stay together, and that's where they focus their time and energy. Until they take to heart that Christ is their one true hope.
I love the lyrics to the song, "In Christ Alone," as they speak to where our hope is really found. Listen and be blessed!
"In Christ Alone" by Geoff Moore and Adrienne Liesching

PLANTING HOPE Kindle version available for pre-order on Amazon