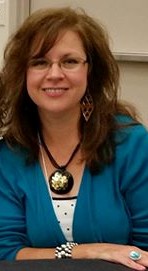 I'm excited to welcome back my friend, award-winning author Shannon Taylor Vannatter! Shannon's visited my blog numerous times, having over a dozen novels published. Wow! I remember when we were newbies hoping for a contract. Now, her books will soon occupy an entire shelf in my personal library.
Shannon's latest will certainly be a hit as it mixes cowboys and Christmas. Below is the blurb to pique your interest further:
With her foreman out of commission, Resa McCall needs horse trainer Colson Kincaid to run her family ranch through the holidays. But having the handsome single dad back in Bandera, Texas, is unsettling. Colson broke Resa's heart years ago, and she can't risk getting close again. Still, working with him and bonding with his sweet little girl is making the ranch feel merry and bright. Being at Resa's side stirs up emotions Colson thought were long gone. But he has a powerful secret that could keep them apart forever. Can Colson give Resa the one Christmas present that might finally bring them back together—the truth?
Sounds like another winner from Shannon, doesn't it?
Now, let's get to know Shannon a little bit better…
Shannon's Favorite Things
Type of Book – Contemporary Romance
Book – A tie between Convenient Groom and Driftwood Lane by Denise Hunter
Author – Denise Hunter, Melissa Tagg, Lenora Worth, & Becky Wade. Don't make me choose just one.
Movie – Seven Year Hitch. It's a Hallmark movie about friends who end up falling in love. I love friend-to-love transition stories.
Entrée – Grilled shrimp anything. Pasta, salad, or alone.
Dessert – Pie. Either blueberry or turtle. And I like my pie cold. Even blueberry. My husband always wants his pie warm, so he thinks I'm weird. But he's the weird one.
Season – Fall. With winter a close second. I hate being hot.
Animal – I'm equally a dog and cat person. Right now, I only have cats. Two outside – both scaredy-cats, but I can cuddle them if no one else is around. My 11-year-old neutered male used to be outside until recently. He was missing for 8 days and I thought he was gone. I mourned him and missed him. But then he showed up in our shed with a broken back leg and a ruptured hip muscle.
The vet said it was probably coyotes. He's healed now. He limps, but he can jump up on the furniture. I let him out in our fenced back yard since he can't climb. As long as he can't climb, I can't bring myself to let him out loose, so I probably have the world's only fenced cat. Even though he really wants his prowling, hunting life back, he's skittish now so I'm not sure he'd go very far. But I'm not taking the chance.
Type of Music – In church, hymns. Out of church, Contemporary Christian
Song – "Martyr's Song" by Todd Agnew
Musician – Todd Agnew
Bible Verse – Oh, there are so many. I can narrow it down to two – Romans 8:38-39:
"For I am persuaded, that neither death, nor life, nor angels, nor principalities, nor powers, nor things present, nor things to come, nor height, nor depth, nor any other creature, shall be able to separate us from the love of God, which is in Christ Jesus our Lord."
Amen to that!
Thank you, Shannon, for visiting! And congratulations on another new release!
---
About Shannon ~
Award winning author, Shannon Taylor Vannatter writes contemporary Christian cowboy romance and has over a dozen published titles. A romance reader since her teens, she hopes to entertain Christian women and plant seeds in the non-believer's heart as she demonstrates that love doesn't conquer all—Jesus does.
She gleans fodder for her fiction in rural Arkansas where she spent her teenage summers working the concession stand with her rodeo announcing dad and married a Texan who morphed into a pastor. In her spare time, she loves hanging out with her husband and son, flea marketing, and doing craft projects.
Connect with Shannon ~
Facebook | Goodreads | Pinterest | Twitter | Amazon Author Page
Purchase A Texas Holiday Reunions ~
Love Inspired | Amazon | CBD | B&N | BAM
Giveaway details ~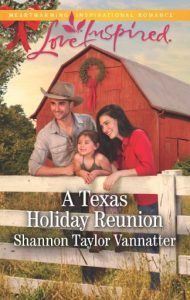 Comment below to enter the drawing for a copy of A Texas Holiday Reunion. Six copies will be split among names drawn during the blog tour from Oct 18 – Dec 8. One winner will get to pick the theme for a custom-made memory board personally crafted by the author. Deadline Dec. 8, 2017. Winners will be revealed on the author's blog on Dec 10th. Go to Shannon's website https://shannontaylorvannatter.com and sign up for her newsletter to enter more giveaways and receive a free book download.
Follow Shannon's blog tour for more chances to win A Texas Holiday Reunion ~