2017 Favorite Reads!
According to my Goodreads page, I read only seventy-two books in 2017, falling just short of my goal of 75. (See my year in books here: Goodreads Year in Books) The shortfall is likely because I've become more selective when choosing the books I wish to spend several hours with, and the selections offered in my preferred genre are becoming fewer. Because I've become pickier, that also means that of the books I do read, a higher percentage end up with higher rankings and twelve books earned a Favorite star. To earn that star, that means the book must meet my rigid standards of quality, including multi-faceted characters, page-turning story, vivid descriptions. The story and characters must strike me as authentic, and, if there is a romance, it must occur organically.
The books listed below (in no particular order) all met those guidelines (in my opinion, as I do realize all art is subjective) and they are stories I would highly recommend.
(Note: making this list means that I read the book in 2017. It may–or may not–have released during the year.)
Have you read any of the following books? What were your favorite books from 2017?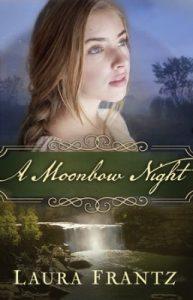 A MOONBOW NIGHT
by Laura Frantz
When Virginia surveyor Sion Morgan arrives at the Tucker family inn with his crew, he's shocked to discover that the wilderness expert he hired is Temperance Tucker—a woman! Soon, though, he discovers that her skill rivals his own. But can the tenuous tie Sion and Tempe are forming withstand Indian ambushes and conflicting loyalties?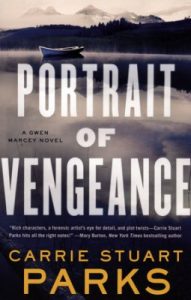 PORTRAIT OF VENGEANCE
A Gwen Marcey Novel #4
by Carrie Stuart Parks
Gwen Marcey investigates a case of a missing child in Lapwai, Idaho. Details keep surfacing that are similar to her childhood traumas. Meanwhile her ex-husband back home is threatening to take sole custody of their daughter. The clock is ticking for the lives of both little girls.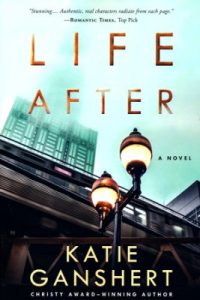 LIFE AFTER
by Katie Ganshert
In a world where bombings are more prevalent than ever, Kate Ganshert writes a novel about a woman who boards a passenger train and seconds later a bomb explodes. One year goes by and she still can't recall that horrific day. She feels grief and guilt because she is the only survivor. Unable to put it to rest, she contacts the families of the victims. Paul Elliot lost his wife and the mother of his children. His daughter Reece reaches out to Autumn for that one last link to her mother. Paul wants to keep the information from Reece so she can heal. Will Autumn finally remember what happened that day?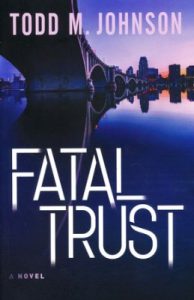 FATAL TRUST
by Todd Johnson
Criminal defense attorney Ian Wells inherited a law practice from his father in Minneapolis. A new client offers him two hundred thousand dollars to find out whether three men qualify for over nine million dollars of trust funds. To qualify, none of the men can have a criminal record for the past twenty years. He finds out the trust has links to an old criminal enterprise and an unsolved art theft. Now Ian is under criminal investigation as the money from the crime begins to surface.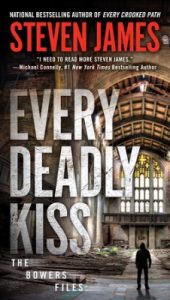 EVERY DEADLY KISS
by Steven James
Patrick Bowers is FBI special agent in Detroit who uncovers a terror plot that goes back hundreds of years. He finds a ruthless murderer and killings that link to his own history with a known terrorist and that his ex-girlfriends secret past could be the only thing that can help them stop the killing spree.  If they can't find the killer, a bioweapon attack is certainly heading their way.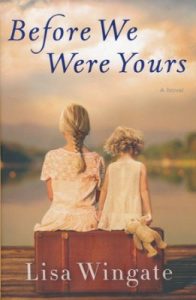 BEFORE WE WERE YOURS
by Lisa Wingate
Based on one of America's real-life scandals. Georgia Tann, director of a Memphis-based adoption organization, kidnapped and sold poor children to wealthy families all over the country.
In the year 1939 Memphis, Tennessee, Rill Foss is a twelve-year-old river gypsy whose family lives on a Mississippi River shantyboat. When an emergency takes their parents to the hospital, strangers take the children from their world and place into an orphanage. Rill fights to keep his sisters and brother together. 
Present day, in Aiken, South Carolina, Avery Staffords is the daughter of a U.S. senator with a career as an assistant D.A. in Baltimore, Maryland. She is planning her wedding when suddenly her world tips upside down the day her father becomes ill. She returns home to help and finds out about her hidden past.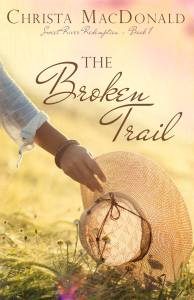 THE BROKEN TRAIL
by Christa MacDonald
Katherine Grant takes the job at Sweet River Christian Academy hoping a small town in the wilderness of Maine will be a vacation from her high-powered career and a break from the emotional toll of the secrets she has buried deep. With the school director on a power trip and evidence of shady dealings, there's nothing relaxing about it. Maybe it would be easier if she wasn't so distracted by Captain MacAlister, the local cop she can't get along with, yet can't get out of her head. She didn't trek up to the middle of nowhere to lose her heart.
Mac doesn't need the kind of trouble he believes Katherine will bring. He's got enough to deal with from poachers to drug crime. Mac has rules to maintain his faith, like avoiding the pull of an attractive woman who doesn't fit his life. But when he meets Katherine, he's drawn in by her intelligence and strength, despite getting burned by her quick temper.
When near tragedy strikes, Katherine reveals her feelings, and Mac doesn't hesitate to respond. If only their scars, both seen and unseen, didn't threaten to tear them apart. Two wary hearts must soften and two steel wills bend if they have any hope of making it down the broken trail to love.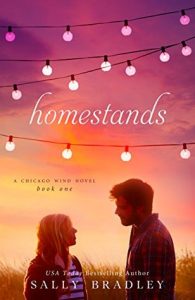 HOMESTANDS
A Chicago Wind Novel #1
by Sally Bradley
When baseball star Mike Connor stumbles across his ex-wife six years after their divorce, he's stunned to find that she's the mother of a kindergartner who wears his jersey. And shares his last name. 
The last thing Meg Connor wants is to be around Mike. After all, he was the one who hurt and abandoned her. But she can't deny him—or their son—time together to build a relationship, which means Mike is around too often, reminding her of why she fell in love with him so long ago. If only she could forget their past… The painful and the good. 
Between their guilt and closely held hurts, Meg and Mike struggle against each other, their feelings, and God as they fight their own desires for the future, a future that might never happen when the past that tore them apart collides with their present.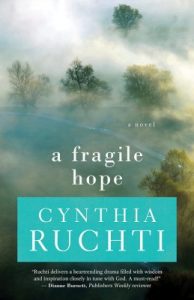 A FRAGILE HOPE
by Cynthia Ruchti
Marriage counselor Josiah Chamberlain has a high success rate repairing other couples' relationships. But when it comes to his own wife, things aren't what they not perfect. As she becomes unreachable, he feels betrayed. Now that love seems to have failed him, will his faith sear through the wall that separates them?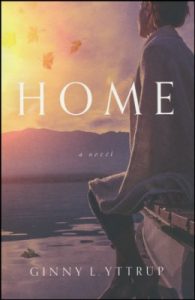 HOME
by Ginny L. Yttrup
Facing a deadline, novelist Melanie Vander escapes to a picturesque localation hoping to inspire her husband to appreciate her again. Meanwhile, Craig is seeking God's wisdom for his struggling business and marriage. Will Melanie keep running from reality and her problems? Or will she allow her characters to lead her home?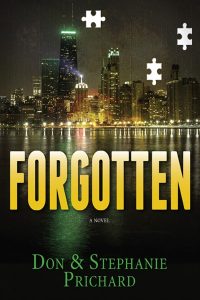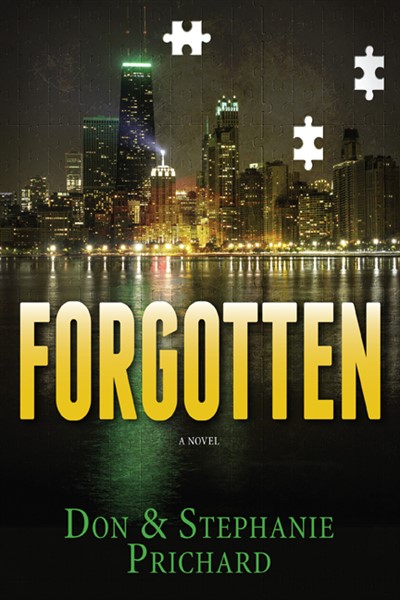 FORGOTTEN
by Don & Stephanie Prichard
Federal prosecutor Eve Eriksson disappears under mysterious circumstances and shows up a year later in a coma. What happened, and where has she been? She can't remember, and her life is in jeopardy. Four people are hunting her down. Three claim to have been stranded on an island with her. The fourth is her old nemesis, Chicago drug lord Danny Romero, who still wants her dead. 
Jake Chalmers is shocked to discover his fiancé is a federal prosecutor. Why did she hide this from him on the island, and who is going to such great lengths to prevent their reunion? If she doesn't regain her memory, he'll be thrown into prison for murder.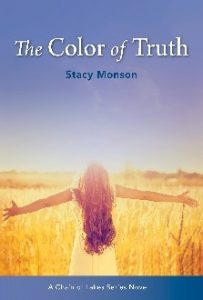 THE COLOR OF TRUTH
A Chain of Lakes Series Novel
by Stacy Monson
Marti has been on her own since she was 15, determined to build a life for herself and her sister despite the threats of a man intent on keeping her from revealing his secret. 
Sam Evans' turbulent teen years prepared him for the perfect job—counseling troubled youth. Then his pregnant wife walked out on their marriage and his life imploded, leaving him without a family, a job, or his hard-earned reputation. 
With her sister in trouble, they're forced to divulge the secrets, lies, and half-truths they've kept hidden from each other, and from themselves. If they can't face the brilliant colors of God's truth, the consequences may be deadly.