COMMON by Laurie Lucking ~ Character Interview
It's always a thrill when friends release new books, and it's even more exciting when that book is a debut novel! I met Laurie Lucking through our Minnesota Chapter of ACFW. She's now our esteemed secretary. 🙂 Laurie is a very talented author, and I know you'll love her debut, Common (releases this Wednesday – Valentine's Day!), that's a mix of fantasy and fairy tale.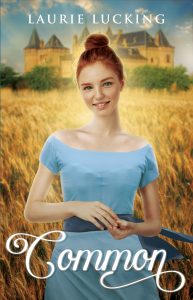 Here's the back cover blurb from Common, Tales of the Mystics #1 ~
One person knows of the plot against the royal family and cares enough to try to stop it
— the servant girl they banished.
Leah spends her days scrubbing floors, polishing silver, and meekly curtsying to nobility. Nothing distinguishes her from the other commoners serving at the palace, except her red hair.
And her secret friendship with Rafe, the Crown Prince of Imperia.
But Leah's safe, ordinary world begins to splinter. Unexpected feelings for Rafe surface just as his parents announce his betrothal to a foreign princess. Then she unearths a plot to overthrow the royal family. Her life shatters completely when the queen banishes her for treason.
Harbored by a mysterious group of nuns, Leah must secure Rafe's safety before it's too late. But her quest reveals a villain far more sinister than an ambitious nobleman with his eye on the throne.
Can a common maidservant summon the courage to fight for her dearest friend?
Now, to pique your interest further, here's Gretchen, who knows Common's heroine very well!
Hi! You're Gretchen, right? Could you please tell me where I might find Leah Wellstone?
Leah? She's probably off polishing a candlestick somewhere. That girl works harder than any of us. She also disappears a lot, and I still haven't figured out where she goes. But if you want to know about Leah, I'd be more than happy to talk to you. You'll get a lot more out of me, anyway.
Oh, all right. I appreciate the offer. So how do you know Leah?
She's my best friend! We've been maids in the palace together since we were old enough to scrub a floor.
Can you tell me about her?
She's loyal, dependable, and very shy. You should see the poor thing blush when the stable hands tease her! No one would guess we'd be such good friends, but she always listens to me and gives good advice. And I make sure she has a little fun!
Why does she get teased by the stable hands?
Oh, Ned and Sam mean no harm, they just like getting her a bit flustered. She's the only one here with red hair, so she's an easy target. Plus Sam is always hoping to catch her attention.
I see. You mentioned she disappears a lot?
Yes—never to shirk her duties, but there are so many evenings where she's just nowhere to be found. It's not like we have a lot of privacy here, so who knows where she slips off to. She's a very reserved person, but fortunately I'm good at weaseling things out of her!
Does she have any family?
Just her ma, Therese. She's the best seamstress in the palace, though she's slowed down a lot the past few months. No one knows anything about Leah's pa. It's the oddest thing—like he vanished into thin air. But Therese is so sweet, no one wants to pester her about it.
Hmm, that does sound strange. Leah is about to reach her Maturity, right? Do you know if she has any prospective suitors?
(Laughs) This is why you needed to talk to me instead of Leah! She is about to turn sixteen, but Leah's so innocent I'd guess the thought of marriage has barely crossed her mind. It's definitely crossed Sam's mind, though, so all she'd need to do is look at him and she'd have a suitor all lined up!
Interesting. How does Leah feel about the royal family?
She tries to avoid attracting attention, just like the rest of us. No one wants to get on the wrong side of Queen Beatrice, especially none of the servants. I find Prince Raphael quite handsome, but knowing Leah, she probably hasn't even noticed.
Thank you so much for sharing with us, Gretchen. This has been very helpful. Anything you'd like to tell us about yourself?
Me? I'm just another maid at Dorendyn Castle. Though I'd much rather chat with my friends than clean! And let's just say I don't mind the stable hands as much as Leah does… Though don't worry, Sam's all hers! (Winks)
It's been lovely to meet you, but we'd better let you get back to your work. Thanks again!
Thank you, Gretchen and Laurie, for visiting today!
---
About Laurie Lucking ~
Laurie Lucking has always loved diving into imaginary worlds through books, but she didn't start writing her own stories until she left her career as an attorney to become a stay-at-home mom. Laurie is the secretary of her local ACFW chapter and co-founder of www.landsuncharted.com, a blog for fans of clean young adult speculative fiction. When she gets a break from playing superheroes and driving wind-up cars, Laurie enjoys reading, singing, connecting with other moms, and writing young adult fantasy, always with a central love story to satisfy her inner romantic. Find out more about Laurie and her writing adventures by visiting www.LaurieLucking.com.
Connect with Laurie ~
Website | Blog | Facebook | Twitter
Purchase Common ~