When it Rains by T.K. Chapin, the second book in the Potter's House Books series, is now up for pre-order! And the pre-order price is only 99¢! This book is scheduled for release on April 10, 2018.
Here's more about When it Rains ~
In need of a fresh start for herself and her sixteen-year-old daughter, Hannah Montgomery decides to relocate from Flagstaff, Arizona to a ranch out in Eastern Washington, just outside of Newport. It's through living out in the open country she hopes to reconnect with God and discover His will for their lives.
Enter Luke Williams, a busy investment banker with a dying father who lives on a ranch and fifteen acres worth of land. When Luke's not flying out of state to meet with clients or in meetings all day, he's out at the ranch tending to his father's needs.
When Luke realizes he needs someone full-time out on the ranch to be with his father, he found Hannah. When Hannah needed a way out that wasn't going to set her back financially, she found Luke and his father Mac.
She has a past that still hurts. He has a history that's complicated.
Luke might have all the requirements for a good and decent man, but so did her ex-husband who secretly had another family for over a decade. Can Hannah put the past behind her and let herself have another chance at love?
About T.K. Chapin ~
T.K. CHAPIN is an award winning Inspirational Christian Fiction author who designs his stories to inspire and tug on your heart strings. He believes that telling authentic stories of faith, love and family helps build the faith of believers while inviting non-believers into the reality of God. Each story highlights how God can work in the lives of those who follow Him.
Chapin gives all credit for his writing and storytelling abilities to God. The majority of his stories take place in and around his hometown of Spokane Washington. Chapin & his wife reside in Southeast Idaho and have three children. When not writing, he enjoys traveling, swimming and spending time with friends & family.
Vist T.K. at www.tkchapin.com
Learn More About Potter's House Books ~
Website | Facebook Readers Group | Facebook
Also Available for Pre-Order
The Homecoming by Juliette Mills
---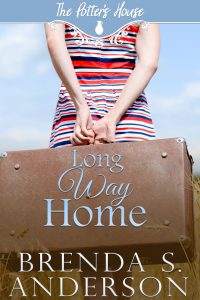 Long Way Home, my first story in the Potter's House Book series, will be available for pre-order on April 10 and is set for release on May 8, just in time for Mother's Day!