One of the greatest blessings of writing is meeting fascinating people, many through local writing groups, which is where I had the pleasure of getting to know Michelle Griep.  Not only is Michelle a gifted author, but she's kind and smart and generous and funny and so much more, and I'm thankful to call her friend! Michelle has become a very prolific author over the past couple years. In 2018 alone, she has three books scheduled for release!
The first to release is The Innkeeper's Daughter, which came out in February. Here's the back cover blurb to pique your interest:
A London officer goes undercover to expose a plot against the Crown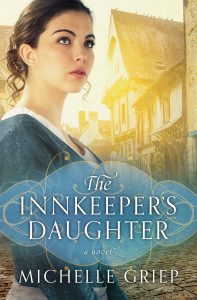 Dover, England, 1808: Officer Alexander Moore goes undercover as a gambling gentleman to expose a high-stakes plot against the king—and he's a master of disguise, for Johanna Langley believes him to be quite the rogue. . .until she can no longer fight against his unrelenting charm.
All Johanna wants is to keep the family inn afloat, but when the rent and the hearth payment are due at the same time, where will she find the extra funds? If she doesn't come up with the money, there will be nowhere to go other than the workhouse—where she'll be separated from her ailing mother and ten-year-old brother.
Alex desperately wants to help Johanna, especially when she confides in him, but his mission—finding and bringing to justice a traitor to the crown—must come first, or they could all end up dead.
Michelle, can you tell my readers a little about yourself?
Buckle up, because here comes a wild ride of randomosities about yours truly…
I love an autumn day with falling leaves. Not the slap-you-in-the-face kind of brisk breezy type day, but the sort where you can wear a tee-shirt and jeans and rustle through those leaves, kicking up yellow and orange leafy fireworks.
A jar of freshly ground almond butter is one of my favorite treats, and just about as close to heaven as you can get here on earth.
If I could live anywhere in the world, it would be Ironbridge, England. It's the shire on steroids. If I believed in reincarnation, I'd swear I'd lived there in a former life.
Lots of people are angry with Poldark for his indiscretion toward the end of season 2, but not me. I'll defend that man to the end—even if he is fictional.
My dog, Miss Ada Clare, is a boxer and sometimes we dance together when no one is looking.
Writing is where I figure out all the answers to the questions I have about life.
What did writing this book teach you?
Writing The Innkeeper's Daughter taught me to persevere. I started this book five years ago. Don't panic. It shouldn't take you that long if you're writing a book. The thing is that I started it, then set it aside and worked on something different, hoping to find a genre that would be more marketable. Now and then I'd pull it out and add a bit more, then shove it back on the shelf and worked on something else. After years of doing this, my editor asked me if I had anything close to being done. I dusted off the manuscript, yet unfinished, and she loved it. Perseverance does pay off in the end…though how long it takes to get there is anybody's guess.
What do you hope your readers take away from the story?
God is sovereign. He really is. No matter your striving, you cannot thwart His plans—which is both a comfort and a source of strife when things don't happen "on time" or as we like it.
More about Michelle ~
Michelle Griep's been writing since she first discovered blank wall space and Crayolas. She is the author of historical romances: The Innkeeper's Daughter, 12 Days at Bleakly Manor, The Captive Heart, Brentwood's Ward, A Heart Deceived, Undercurrent and Gallimore, but also leaped the historical fence into the realm of contemporary with the zany romantic mystery Out of the Frying Pan. If you'd like to keep up with her escapades, find her at www.michellegriep.com or stalk her on Facebook, Twitter, or Pinterest.
Connect with Michelle ~
Facebook | Twitter | Pinterest | Website
Also by Michelle Griep ~
12 DAYS AT BLEAKLY MANOR…Spend Christmas at a mysterious English manor
OUT OF THE FRYING PAN…Something is wrong in Paradise.
THE CAPTIVE HEART…Would you marry a murderer?
BRENTWOOD'S WARD…Sherlock Holmes meets Dickens in this Regency adventure.
A HEART DECEIVED…Lies Were Born in a Garden–and Just May Be the Death of Miri Brayden