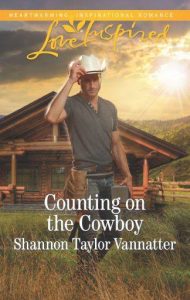 You've all met my friend, critique partner, and award-winning author Shannon Taylor Vannatter before. She's visited my blog several times with new releases, and the Queen of Cowboy Romance is back again, this time with Counting on the Cowboy! (Isn't that cover gorgeous?!)
About Counting on the Cowboy ~
Ranching is his whole life… until he meets one special city girl
Texas Cowboy Brock McBride knows better than to fall for a city girl. She'll leave and break his heart—just like his ex-fiancée did. But his job at Chasing Eden Dude Ranch requires working alongside Dallas wedding planner Devree Malone. And despite fierce resistance, he's falling hard. Yet with Devree's business back in the city, can he convince her she's found her home…with him?
Get your copy now:  Purchase Counting on the Cowboy
To introduce us to the characters, Shannon asked her hero and heroine, Brock and Devree, a few questions:
Are you open to your own romance?
Devree: Romance is the last thing I want. I recently met with a bride to plan her wedding, but when the groom showed up, he was my boyfriend. And I mean was. His wedding got called off, by the way.
Brock: No. I don't mean to speak ill of the dead, but my wife cheated on me. More than once. Besides, right now, I need to focus on my little girl.
What's the number one quality you'd require in a mate?
Devree: I'm not interested, but I guess I'd have to say honesty.
Brock: Faithfulness.
What's the number two quality you'd require in a mate?
Devree: Did I mention honesty. It would be very hard for me to trust again. If I could, and then I found out he was lying to me, I'd be shattered.
Brock: Someone who could love my little girl completely.
What's the one habit or lifestyle that would make you run the other way?
Devree: Lying to me. I've had enough of that to last me a lifetime.
Brock: Unfaithfulness. I want someone who can love me and only me. And my little girl of course. If things were different, Devree would fit what I'm looking for, but I can't tell her the truth about my daughter.
What would be a reason to end a potential romance for you?
Devree: If I found out he was lying to me. About anything.
Brock: Distrust. Although I feel like a heel for not being honest with Devree right now.
What would be the best gift a potential mate could buy for you?
Devree: I can't be bought. A gift to me would be complete and total honesty.
Brock: Things that can be bought are temporal. I'm more interested in gifts like commitment and trustworthiness. Devree could give me that. But if she knew the truth, she'd hate me.
---
About Shannon Taylor Vannatter ~
Award winning author, Shannon Taylor Vannatter writes contemporary Christian cowboy romance and has over a dozen published titles. A romance reader since her teens, she hopes to entertain Christian women and plant seeds in the non-believer's heart as she demonstrates that love doesn't conquer all—Jesus does.
She gleans fodder for her fiction in rural Arkansas where she spent her teenage summers working the concession stand with her rodeo announcing dad and married a Texan who morphed into a pastor. In her spare time, she loves hanging out with her husband and son, flea marketing, and doing craft projects.
Connect with Shannon ~
Website | Blog | Facebook | Goodreads | Pinterest | Twitter | Amazon
About the Giveaway ~
Comment below to enter the drawing for a copy of Counting on the Cowboy. Ten copies will be split among names drawn during the blog tour from March 13 – April 10. One winner will get to pick the theme for a custom made memory board personally crafted by Shannon Taylor Vannatter. Deadline April 20, 2018. Winners will be revealed on the Shannon's blog on April 21, 2018. To enter more giveaways, and to get a FREE book download, go to her website (https://shannontaylorvannatter.com) and sign up for her newsletter .
Follow Shannon's blog tour for more chances to win Counting on the Cowboy: