I hope you all enjoyed a blessed Easter with family and friends, celebrating the resurrection of our Savior, Jesus Christ! Several of our family members met at a restaurant yesterday rather than meeting in someone's home. Talk about a no-stress event! No hours of preparation! No mess to clean up! It was definitely worth it!
And now that Holy Week is over, it's time to get back to book talk. Last week Heart Unbroken by Alexa Verde, the 3rd book in The Potter's House Books series, went up for pre-order. You may pre-order Heart Unbroken for only 99¢!
About Heart Unbroken ~
Can a widowed sheriff and a former drug addict believe
God has the power to mend all broken hearts,
even crushed ones like theirs?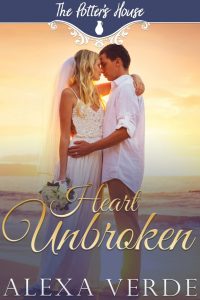 Now a Christian, former drug addict Emma Hughes is back in the small town of Rios Azules. She's desperate to regain the trust of the son she once abandoned and change her life. Meeting a vacationer, Rodrigo Ybarra, she fights her attraction to him. Even with her newfound faith, the risk of a relapse is too high.
On the two-year anniversary of his wife's death at the hand of a junkie, Sheriff Rodrigo Ybarra comes to the ocean to mourn her. Romance is the last thing on his mind, but he's drawn to a beautiful stranger who frequents the same spot. When he discovers her past could destroy his career, he struggles to guard his heart.
Then Emma's life is threatened. Rodrigo won't let her push him away or allow concern for his career to hold him back now. Will he once again lose the woman he loves? Or will faith and trust bring them safely to a future together?
About Alexa Verde ~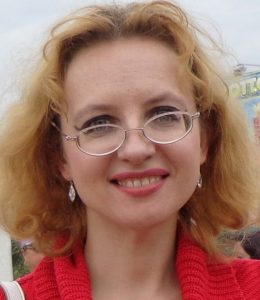 Alexa Verde writes sweet, wholesome books about faith, love, and murder. She penned her first literary masterpiece, a rhymed poem, at the ripe age of eight, and since has had 200 short stories, articles, and poems published in the five languages that she speaks. She has bachelor's degrees in English and Spanish, a master's in Russian, and enjoys writing about characters with diverse cultures. She's worn the hats of reporter, teacher, translator, model (even one day counts!), caretaker, and secretary, but thinks that the writer's hat suits her the best. After traveling the world and living in both hemispheres, she calls a small town in south Texas home. The latter is an inspiration for the fictional setting of her popular series Rios Azules Christmas and Secrets of Rios Azules.
For giveaways, news, and recipes, please sign up for her newsletter at www.alexaverde.com. Twitter: @AlexaVerde3. Facebook: www.facebook.com/alexaverdeauthor.
Learn More About The Potter's House Books ~
Website | Facebook Readers Group | Facebook
Purchase The Potter's House Books ~
The Homecoming by Juliette Duncan
When it Rains by T.K. Chapin
Heart Unbroken by Alexa Verde
Long Way Home by Brenda S. Anderson – available for pre-order on April 10!