Long Way Home – Full Cover Reveal
THANK YOU to everyone who has already pre-ordered Long Way Home, The Potter's House Books #4. The sales have already more-than-doubled my highest pre-order sales ever! If you haven't ordered it yet, there's still plenty of time. Long Way Home's official release date is May 8, so click below to get the special pre-order price of only 99¢!
And now I get to share with you my full cover! The front was created by T.K. Chapin, one of the authors in The Potter's House Books series, and the back and spine was crafted by George of Think Cap Design (who has designed all my covers up until now!)
Ta da!!!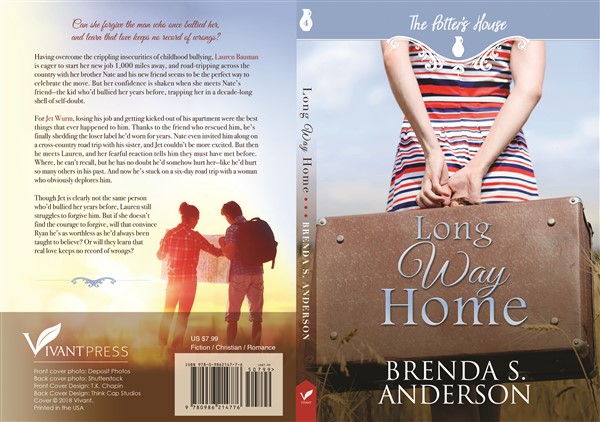 Yes, I may be biased, but I think it's gorgeous!
Here's the back cover blurb ~
Can she forgive the man who once bullied her,
and learn that love keeps no record of wrongs?
Having overcome the crippling insecurities of childhood bullying, Lauren Bauman is eager to start her new job 1,000 miles away, and road-tripping across the country with her brother Nate and his new friend seems to be the perfect way to celebrate the move. But her confidence is shaken when she meets Nate's friend–the kid who'd bullied her years before, trapping her in a decade-long shell of self-doubt.
For Jet Wurm, losing his job and getting kicked out of his apartment were the best things that ever happened to him. Thanks to the friend who rescued him, he's finally shedding the loser label he'd worn for years. Nate even invited him along on a cross-country road trip with his sister, and Jet couldn't be more excited. But then he meets Lauren, and her fearful reaction tells him they must have met before. Where, he can't recall, but he has no doubt he'd somehow hurt her–like he'd hurt so many others in his past. And now he's stuck on a six-day road trip with a woman who obviously deplores him.
Though Jet is clearly not the same person who'd bullied her years before, Lauren still struggles to forgive him. But if she doesn't find the courage to forgive, will that convince Jet he's as worthless as he'd always been taught to believe? Or will they learn that real love keeps no record of wrongs?
Learn More About The Potter's House Books ~
Website | Facebook Readers Group | Facebook
Also available in The Potter's House Books series ~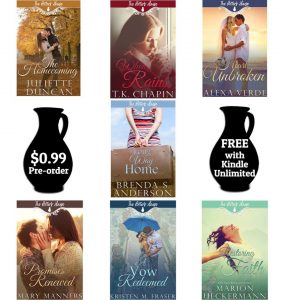 When it Rains by T.K. Chapin released Tuesday!!!
The Homecoming by Juliette Duncan
Heart Unbroken (pre-order) by Alexa Verde
Promises Renewed by Mary Manners (Pre-order in 2 weeks!)
A Vow Redeemed by Kristen M. Fraser (Coming Soon!)
Restoring Faith by Marion Ueckermann  (Coming Soon!)