The Coming Home Series Continues!
Ever since I released Hungry for Home back in 2015, readers have begged for more from the Brooks family and from many of the secondary characters.
Well, I finally have good news for you!
While Richard and Sheila Brooks probably will not be the focus of any new story (unless God puts something on my heart, which is always a possibility), they will likely make cameo appearances. Instead, many of the secondary characters will be featured in their own books, each of which will be a standalone story.
The first story, Coming Home, is a short story and is newly available! You can download it for FREE if you subscribe to my e-newsletter. (My newsletter goes out about every two weeks.) If you already subscribe, check your email for my latest mailing which will provide instructions on how to receive your free book.
About COMING HOME ~
Who does a mom become when her children leave the nest?
For years Nancy Monroe has anticipated the day when she and her husband would have an empty nest, and they could at last focus on their relationship. Nancy's also eager to return to the career that had been suspended when they'd had children. After twenty-five years of motherhood, she can finally be more than just a mom.
But then her husband, Paul, gets a promotion that sends him on the road, and Nancy discovers that careers for former full-time mothers are near-impossible to find.
She isn't about to give up, though. And, besides, she always has her volunteer position at her church. They would never let her down.
Or would they?
If you'd prefer not to subscribe to an email list,
you can purchase COMING HOME by clicking below.
Just for fun, I've thrown in familiar characters from Risking Love, a Where the Heart Is Romance #1, and from Stacy Monson's Dance of Grace (Chain of Lakes Series). 🙂
Then in my contributions to The Potter's House Books, you'll be reintroduced to more characters from the Coming Home Series.
(Each of these novellas stands alone,
so it's not necessary to read any of the previous books.)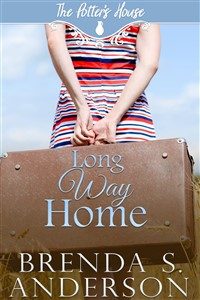 LONG WAY HOME (The Potter's House Books #4)
Official Release Date: May 8, 2018
Now available for pre-order: Amazon 
Having overcome the crippling insecurities of childhood bullying, Lauren Bauman is eager to start her new job 1,000 miles away, and road-tripping across the country with her brother Nate and his new friend seems to be the perfect way to celebrate the move. But her confidence is shaken when she meets Nate's friend–the kid who'd bullied her years before, trapping her in a decade-long shell of self-doubt.
For Jet Wurm, losing his job and getting kicked out of his apartment were the best things that ever happened to him. Thanks to the friend who rescued him, he's finally shedding the loser label he'd worn for years. Nate even invited him along on a cross-country road trip with his sister, and Jet couldn't be more excited. But then he meets Lauren, and her fearful reaction tells him they must have met before. Where, he can't recall, but he has no doubt he'd somehow hurt her–like he'd hurt so many others in his past. And now he's stuck on a six-day road trip with a woman who obviously deplores him.
Though Jet is clearly not the same person who'd bullied her years before, Lauren still struggles to forgive him. But if she doesn't find the courage to forgive, will that convince Jet he's as worthless as he'd always been taught to believe? Or will they learn that real love keeps no record of wrongs?
PLACE CALLED HOME
(Cover reveal coming soon…)
The Potter's House Books #11
Release Date: September 11, 2018
Nate Brooks has a penchant for picking up strays to drop off at Our Home's residence for homeless young adults. What he doesn't expect is falling for one of those strays.
HOME ANOTHER WAY
The Potter's House Books #18
Release date: February 5, 2019
Having survived being homeless, and recently graduated from culinary school, Austin Lang is ready to move forward in his life, and that includes marrying his fiancé, but then he gets word that his mother is about to be released from prison, and she wants to come live with him. How can he honor is mother, when she hasn't earned that honor?
---
Brenda S. Anderson's Coming Home Series ~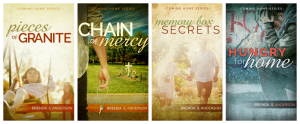 Pieces of Granite
Chain of Mercy
Memory Box Secrets
Hungry for Home
For more information on The Potter's House Books ~

Website | Reader's Group | Facebook
HAPPY READING!!!