LONG WAY HOME Winner
Congratulations, Christina McComiskie, on winning an autographed copy of LONG WAY HOME from my book birthday blog post! I will be in touch!
And a huge Thank You to everyone who celebrated with me and to those who purchased LONG WAY HOME! This book has had the best start of any of my books so far! Even better, readers are enjoying Lauren & Jet's story. 🙂
I can't thank you all enough for your support! Happy Reading!
---
Check out ChristianBookaholic's review here:
https://www.christianbookaholic.com/2018/05/06/long-way-home-by-brenda-anderson/
A sampling of other reviews:
"An amazing story that will make you smile, bring tears to your eyes, and assure you that true forgiveness CAN happen step-by-step with God's guidance and mercy. Highly recommend!!" ~ Stacy M
"What a wonderful story of accepting others and forgiving past hurts." ~ BJ
"This story was an easy delightful read much like a Sunday afternoon drive on a beautiful day. But smoothly embedded in the story are a multitude of life lessons including unpacking what love is, forgivenesses, overcoming fear, dealing with anger and so much more. In fact, God used this book to speak to my heart.
So get a copy and let God speak to you through the story of a road trip between 2 sort of siblings and a newly found friend that God is drawing to himself. You will be glad you did." ~ D Chatley
"Not only is this story entertaining it made me think and reflect on my own past hurts and unforgiveness. It also has some of the best descriptions of what true love is. I could go on and on but I still couldn't say enough. I highly recommend this book to everyone who struggles with bullying from either side or forgiveness, dysfunctional families or loss of family members, or just searching. This book is a keeper!" ~ I Hall
"A wonderful and enlightening story of finding love when you've never known it before, of finding acceptance and letting go of anger that has been a reaction to dealing with the hurt. Such a beautiful story." ~ Virginia Jones
About Long Way Home ~
Can she forgive the man who once bullied her,
and learn that love keeps no record of wrongs?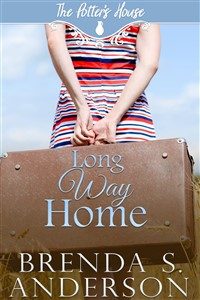 Having overcome the crippling insecurities of childhood bullying, Lauren Bauman is eager to start her new job 1,000 miles away, and road-tripping across the country with her brother Nate and his new friend seems to be the perfect way to celebrate the move. But her confidence is shaken when she meets Nate's friend—the kid who'd bullied her years before, trapping her in a decade-long shell of self-doubt.
For Jet Wurm, losing his job and getting kicked out of his apartment were the best things that ever happened to him. Thanks to the friend who rescued him, he's finally shedding the loser label he'd worn for years. Nate even invited him along on a cross-country road trip with his sister, and Jet couldn't be more excited. But then he meets Lauren, and her fearful reaction tells him they must have met before. Where, he can't recall, but he has no doubt he'd somehow hurt her—like he'd hurt so many others in his past. And now he's stuck on a six-day road trip with a woman who obviously deplores him.
Though Jet is clearly not the same person who'd bullied her years before, Lauren still struggles to forgive him. But if she doesn't find the courage to forgive, will that convince Ryan he's as worthless as he'd always been taught to believe? Or will they learn that real love keeps no record of wrongs?
Purchase Long Way Home ~