It seems like it's been forever since I posted here, so I have a lot of updates! I'll try to catch you up on what's going on in my writing life below …
What Makes a Family?
Anyone who knows me well, knows that I—along with my husband and three twenty-something kids—LOVE the Marvel movies. Since Iron Man came out eleven years ago, we've attempted to see each subsequent movie on opening night, often at midnight. With the release of Avengers: Endgame, the first round of Marvel movies is complete. And I'm very sad to say goodbye to many beloved characters.
I pondered why they had such a draw and impact on followers, and I came to a conclusion: Family. These characters, working together, represented family. They loved each other, yet fought with each other. Yes, they had super powers, but they also had super flaws. And, as was shown in the final two movies, any of the heroes would sacrifice themselves for the others.
Families come in many shapes, colors, and sizes. It is not only drawn together by blood, but with love and sacrifice.
And that's what The Mosaic Collection authors will be showing in our books throughout the next year as we spotlight families created by His design.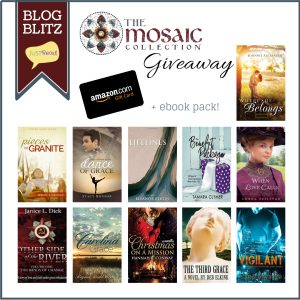 Starting today and going through July 20, meet the authors of Mosaic and have an opportunity to win the package shown above! To enter click on the above graphic.
First Mosaic Collection Book Now Available for Pre-Order!
The first novel in The Mosaic Collection is now available for pre-order, and for only 99¢! The price will go up on release day, so order now.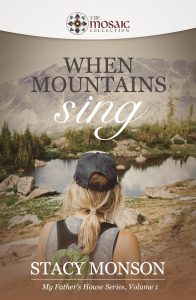 WHEN MOUNTAINS SING
My Father's House Series, Volume 1
by Stacy Monson
When the truth cost her everything,
she thought there was nothing left to lose.
Mikayla Gordon loves nothing more than sleeping under the stars, reeling in the "big one," and long hikes in the wilderness. A medical crisis reveals a 30-year-old secret that turns everything she's known and believed upside down, unraveling her dreams and her identity.
In search of answers, she follows a trail from Minnesota to Colorado and discovers more unwelcome secrets even as she falls in love with the majestic beauty of the Rocky Mountains, and a wilderness camp leader who shares the greatest secret of all.
Knowing her life can never go back to what it was, she must make decisions that will impact far more than just her future.
Pre-Order Here: https://www.amazon.com/dp/B07TGFS6MC/
Christian Romance FREE or 99¢!

Searching for your next favorite Christian Romance story?
Look no further! Several bestselling authors, including some of my fellow Potter's House authors and Mosaic Collection authors, have teamed up to offer a delightful selection of books for 99¢ or Free on Amazon. Available for a limited time.
Click below to find Christian romance reads:
https://books.bookfunnel.com/christianromancefreeor99c/g8d3zu0xzi