November 2019 New Releases
A lot of releases for November, just in time for Christmas shopping! And the list includes, A Beautiful Mess.
More in-depth descriptions of these books can be found on the ACFW Fiction Finder website.
Contemporary Romance:
Royally Yours
by
Betsy St. Amant
, Ashley Clark,
Liz Johnson
, and
Melissa Tagg
— Tinsel, Vermont is known for its no-paparazzi policy and Christmas decorations that are fit for a queen. This holiday season, join four royals on a stroll through town square as they each find their Christmas wishes for a happily-ever-after…tiaras optional. (Contemporary Romance, Independently Published)
Restoring Christmas by Julie Arduini — A young woman overcome by grief teams up with a special education teacher to bring joy to the community through a Christmas-themed tourist attraction. (Contemporary Romance from Surrendered Scribe Media)
Valerie's Verdict by Hallee Bridgeman — Broken and battered, Valerie comes home and finds a lifetime of love waiting for her. (Contemporary Romance, Independently Published)
An Unexpected Family by June Foster — Grant Elliot leaves his father's veterinarian dynasty and overambitious twin brother to practice in the small town of Homedale, California. When local baker Kate Klein brings her ailing dog into the office, Grants's intrigued by the lab's gorgeous owner. He wants to get to know her but can't reveal his origins. What would she think if she knew his father's clinics cater only to the wealthy who spoil and pamper their pets instead of practicing genuine medicine? Kate Kline inherits Aunt Ella's Bake Shop when her aunt passes away and must make a success of the failing business or lose her father's respect. Now California Plastics, her major account, has moved their plant to Sacramento. She's faced with the possibility of closure and won't accept Grant's offer to bail her out. She doesn't need a man's help. (Contemporary Romance from Forget Me Not Romances [Winged Publications])
All is Bright by Chautona Havig, Toni Shiloh, Cathe Swanson, and Kari Trumbo — Four of your favorite contemporary romance authors join festive forces to bring you the fourth-annual Christmas Lights Collection. (Contemporary Romance, Independently Published)
Simply Smitten by Kimberly Rose Johnson — Business brought them together but will betrayal pull them apart? Michael Pierce co-owns a start-up software development company. They are well on their way to success when Michael discovers something that changes everything. Can the beautiful economist he hired fix the mess, or are they doomed to bankruptcy? Hailey is under a lot of pressure at work. Not the least of which comes directly from her new boss. She's dreamed of being a successful businesswoman, but now her heart wants more. Can she have love and a career, or will she have to choose? (Contemporary Romance, Independently Published)
By All Appearances by Dawn Kinzer — An attractive special events planner from a wealthy family and a disfigured musician find their lives entangled when he is hired as a caretaker on her family's estate. (Contemporary Romance from Mountainview Publishing)
Courting the Amish Nanny by Carrie Lighte — Embarrassed by an unrequited crush, Amish maedel Sadie Dienner needs a vacation from her life in Pennsylvania—and from romance. Until Christmas, she's working in Maine as a nanny to Amish widower Levi Swarey's twins. But Levi is frustratingly overprotective and they just can't see eye to eye on anything. And the worst part? Sadie can't seem to stop herself from losing her heart… (Contemporary Romance from Love Inspired [Harlequin])
General Contemporary/Women's Fiction:
A Beautiful Mess by Brenda S. Anderson — Nearly four years ago, Erin Belden's happy life became a shattered mess. After her husband admitted to an affair and that a child had been conceived, he left her and their young daughter for his new family. Now, she's finally ready to put the pieces of her life together. She's set to launch her own business and even thinks her heart might be open to romance—should the right man come along.
But just when everything seems to be lining up, she receives a devastating call: her ex-husband and his wife have been killed in a car accident, and Erin is listed in their will as their daughter's legal guardian.
How can she be a mother to the child—let alone love the child—who broke up her marriage? Does she have the courage to start over yet again and turn this mess into a mosaic of beauty?
A single mother's journey from bitterness to forgiveness. (Women's Fiction, Vivant Press)
Meant For Her by Joy Avery Melville — Kidnapped, raped, brutally beaten, and
left for dead, Candi Reynolds becomes a prisoner of fear. Faced also with the impact of the unexpected break-up with her fiancé, and an unwanted pregnancy resulting from the attacks, she believes God has forsaken her. Choosing to move back to the Michigan horse farm owned by her older brother, Dr. Cam Reynolds, Candi goes into seclusion. Dr. Patrick (Mack) MacKevon, long-time friend of Cam's, watches from the sidelines at the farm where his horses are stabled, while Candi struggles to regain a sense of normalcy. His own big-brother tendencies develop into a much deeper emotion over the months he prays for her. Is it possible for Candi to put all of the pain and trauma behind her and renew her former relationship with the Lord? Will she allow her heart to open enough to discover authentic love, while making decisions of victory on her personal journey to joy? (General Contemporary, Independently Published)
When I Close My Eyes by Elizabeth Musser — A bestselling author, her daughter, and the perpetrator of her assassination attempt are brought together in a story about complicated choices, mental illness, forgiveness and grace. Set against the flaming hills of North Carolina and the peaceful shores of the Mediterranean Sea, When I Close My Eyes tells the story of two families, struggling with dysfunction and finding that love is stronger than death. (Contemporary from Bethany House [Baker])
Historical:
Wounded Heart
by
Colleen Hall
— Orphaned Della Hughes chafes at her strict Victorian upbringing and goes west with her uncle's family in order to find adventure and freedom. (Historical from Anaiah Press)
Misleading Miss Verity by Carolyn Miller — What happens when the hoydenish youngest daughter of the Viscount Aynsley is spirited off to Scotland and meets a kindhearted gardener of the mysterious Laird of Dungally? (Historical from Kregel Publications)
The Silk Merchant of Sychar by Cindy Williams — One woman, five husbands and a weary rabbi at the well who knows 'everything she ever did.' From the olive groves of Samaria to the bloodied sand of a Roman stadium to the exquisite silks brought from the East, The Silk Merchant of Sychar weaves color into the biblical account of the woman at the well. (Historical from Rhiza Press)
Historical Romance:
The Highlanders by J'nell Cieselski, Janet S. Grunst, Jennifer Lamont Leo, and Naomi Musch — Never underestimate the heart of a Highlander in these four romantic novellas set across two centuries from 1715 to 1915. (Historical Romance from Lighthouse Publishing of the Carolinas)
Marisol by Elva Cobb Martin — Alone and with child, Marisol Valentin flees Spain after murdering the nobleman who molested her. She is sold as an indentured servant at the Charles Town Harbor, but her ship is captured at sea by privateer Captain Ethan Becket, once a Charles Town minister, who is grieving his deceased wife. Ethan decides Marisol's elegant manners make her a perfect governess for his young son. But when he sets out on a quest to find his captured sister, said to be in Cartagena, little does he expect his new Spanish governess to stow away on his ship with her six-month-old child. Her offer of help to free his sister, however, is too tempting to pass up. As is her beauty and strength of character—until he learns she is a wanted murderess. Once their paths intertwine on a journey filled with danger, intrigue, and romance, only love and the grace of God can overcome their pasts and ignite a new beginning. (Historical Romance from Wild Heart Books)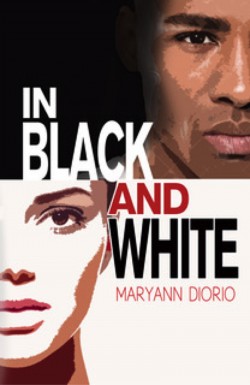 In Black and White by MaryAnn Diorio — When graduate student Tori Pendola and Jebuni Kalitsi, a Ghanaian exchange student and heir to his tribe's chieftaincy, fall deeply in love, they must face not only their own inner demons of rejection and guilt but also the demons of societal hatred bent on destroying their relationship. Will their love survive the cruel and bitter attacks against them? (Historical Romance from TopNotch Press)
Serving Up Love by Regina Jennings, Tracie Peterson, Jen Turano, and Karen Witemeyer — On the Menu for These Ladies? Adventure, Independence, and a Big Serving of Romance! A storied part of American history, Harvey Houses offered women a unique chance to gain independence and see amazing parts of this great country. (Historical Romance from Bethany House [Baker] Publishing)
While the Rain Whispered by Kim Williams — Clara Williams has a good life, but she would walk away from it if she could. She longs for adventure greater than both the confines her rural Texas town and the people she loves have to offer. Clara is certain the stories she writes for children contain more adventure than her reality. She cannot reconcile the internal frustration with her faith. When opportunity presents itself at last, Clara is faced with a choice between the life she's known and the life she longs to know, and the men who each belong in one but not the other. (Historical Romance, Independently Published)
Mystery/Thriller/Suspense:
Pocket Change by Debbie Archer — When Publisher's Clearing House winner, Mary Clare Casteel, decides to help rejuvenate her dying town, she has no idea she'll end up solving not one but two mysterious deaths. (Cozy Mystery from Mantle Rock Publishing)
Dead Wrong by Vannetta Chapman — When Agatha Lapp's brother and sister-in-law are tragically killed in a buggy accident, Agatha relocates to the new Amish community in Hunt Texas, nestled in the Texas Hill Country. She's there to make a success of her brother's dream–an Amish B&B. Agatha is friendly, efficient, and capable. She's also a fifty-five year old widow who has learned to be independent. When she discovers Russell Dixon's lifeless body in Cabin 3, she runs next door where retired detective Tony Vargas lives. The police determine that her guest died of natural causes, but as Agatha and Tony put together the events of the previous two days they become convinced that the police are Dead Wrong. (Cozy Mystery, Independently Published)
A Cross to Kill by Andrew Huff — John Cross is a small-town pastor, bent on leading his flock to follow God's calling. He's not the sort of man one would expect to have a checkered past. But the truth is that the man behind the pulpit preaching to his sheep was once a wolf–an assassin for the CIA. When John decided to follow Christ, he put that work behind him, determined to do penance for all the lives he took. He vowed never to kill again. Now someone wants the peaceful pastor to pay for his sins with his own life. And when a terrorist out for revenge walks into the church, John's secrets are laid bare. Can he keep his vow–even when the people he loves are in mortal danger? Will his congregation and the brave woman he's learning to care for be caught in the cross fire? In the end, John's life may be the only sacrifice he has left to offer. . . (Thriller/Suspense from Kregel Publications)
The Sleuth's Conundrum by Kimberly Rose Johnson — Danger lurks and suspicions abound when a librarian, her young assistant, and a local reporter try to solve the mysteries of both a dead woman and an abandoned child. (Cozy Mystery from Mountain Brook Ink)
Deadly Harmony by Marissa Shrock — Georgia Rae Winston's romance has broken up. But that's the least of her problems. Georgia and Detective Cal Perkins are through. Fine. Maybe it's an opportunity to give charmer Hamlet Miller a chance. But there's no time for romance when Georgia hosts her stepsister and her roommate, Quincy, during a college chorale tour—and Quincy steals Georgia's car and disappears. When her car turns up in a cemetery with a cryptic note lying on the front seat, Georgia decides to take action. As Georgia and her stepsister dig into the mystery, they uncover Quincy's tumultuous past. A past that points to a frightening present. They dig deeper and discover a web of deception they're determined to untangle, if they can stay alive long enough to bring the truth to light. (Cozy Mystery, Independently Published)
Romantic Suspense:
One Day Gone by Luana Ehrlich — Mylas Grey, the chief investigator for Senator Davis Allen, enlists the help of a beautiful photographer when he returns to his hometown to investigate the disappearance of Lizzie Allen, the senator's missing daughter. (Romantic Suspense, Independently Published)
Dangerous Christmas Memories by Sarah Hamaker — Hiding in witness protection is the only option for Priscilla Anderson after witnessing a murder. Then Lucas Langsdale shows up claiming to be her husband right when a hit man finds her. With partial amnesia, she has no memory of her marriage or the killer's identity. Yet she will have to put her faith in Luc if they both want to live to see another day. (Romantic Suspense from Love Inspired [Harlequin])
Speculative:
What If? by Roger E. Bruner — Three teens join forces with Holyland's outgoing president to prevent the inevitable election of a man who's determined to wipe out the remnant of New America's few remaining Christians. (Speculative, Independently Published)